Movie Trailer: Wes Craven's 'My Soul To Take'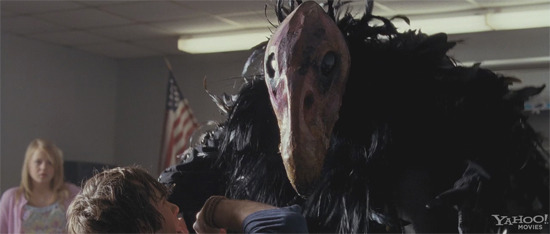 We haven't covered it very much, but in addition to the now-shooting Scream 4, Wes Craven has another movie coming up. This isn't a sequel or anything, but it is very much in keeping with the basic Wes Craven methodology: high school kids are in danger thanks to an evil legacy that haunts their town, and may be possessing one of them. Check out the trailer for the film, My Soul to Take, after the break.
There was a moment where I thought this might be more than the same old high school supernatural slasher setup, but, well, it doesn't seem to be. There are a few flashes of interesting things in the trailer. (Like that image above — what the hell is that?) But for the most part this looks entirely like the elements of six or seven other movies shuffled around.
See the trailer in HD at Yahoo.
In the sleepy town of Riverton, legend tells of a serial killer who swore he would return to murder the seven children born the night he died. Now, 16 years later, people are disappearing again. Has the psychopath been reincarnated as one of the seven teens, or did he survive the night he was left for dead? Only one of the kids knows the answer. Adam "Bug" Heller was supposed to die on the bloody night his father went insane. Unaware of his dad's terrifying crimes, he has been plagued by nightmares since he was a baby. But if Bug hopes to save his friends from the monster that's returned, he must face an evil that won't rest... until it finishes the job it began the day he was born.