Sales Trailer: Dead Of Night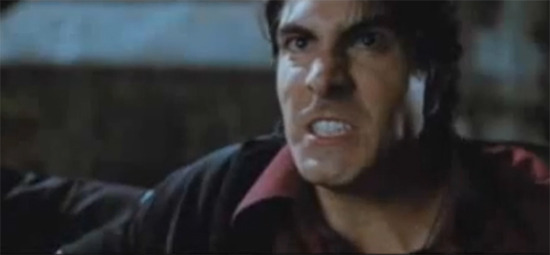 We've wondered when we'd see a trailer for the Dylan Dog comic book adaptation Dead of Night, and now that a sales trailer has arrived, it's easy to see why so little material has been forthcoming. This one looks pretty terrible. Already earning frequent comparisons to Buffy the Vampire Slayer thanks to over-lit scenes, TV-worthy staging and the very Buffy-like makeup, it isn't too difficult to guess why this one doesn't yet have distribution.
Brandon Routh has moments where he looks OK as the supernatural investigator Dylan Dog, but most of the time he looks like he was severely miscast. I liked the idea of Routh in the role, but a great deal of his delivery doesn't work. He also looks very out of place, because the trailer doesn't communicate that the movie ever establishes and proper sense of atmosphere or location. A scene like the visit to the body shop should look great, but it just looks like a quick day was spent in the back warehouse of an effects shop.
The voiceover hurts, too. And the Marilyn Manson cover of Depeche Mode's 'Personal Jesus' may be from 2004, but it sounds very 1999, and only adds to the feeling that this is a ten-year old TV movie.
Dylan Dog is the world's only paranormal investigator. He hardly moved to New Olreans to escape a life made of nightmares. However, nightmares will find him again. A missing artifact, a beautiful heiress and a brutal murder conspire to drag him back into the dark world of the undead... Have you ever wondered if the person next to you was really part of your world?