Superhero Bits: X-Men First Class Shoots In Three Weeks; The Avengers To Be Shot In 3D; Edgar Wright Calls Ant-Man A "High-Tech Spy Heist Film"; Karl Urban Confirmed As Judge Dredd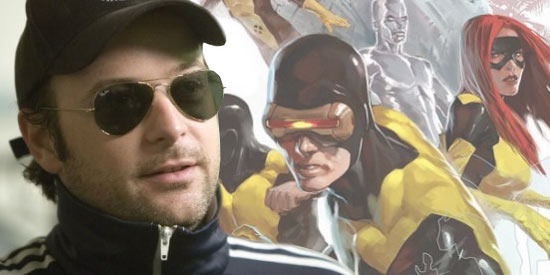 Got a pack of small comic book to film stories to throw out today. First, X-Men: First Class co-writer Jane Goldman says that First Class is shortly to go before cameras. At Movie Con this weekend, Goldman said "I watched a bunch of pre-viz yesterday and went home feeling so excited. We start shooting in about three weeks." There has been a lot of casting over the past couple weeks, with two items coming out last night. But who plays Cyclops? [CBR]
After the break, talk about The Avengers, Ant-Man and Judge Dredd.
The Avengers will start shooting in February, and now there's word, via Roger Friedman, that the film will be shot natively in 3D. Thor and Captain America are being post-converted, but the 3D Thor footage shown at Comic Con last month inspired no confidence that the job is going to be done right. Kenneth Branagh and Joe Johnston, (Thor and Cap directors, respectively) were reluctant to shoot with digital cameras and bulky 3D rigs; perhaps Avengers director Joss Whedon has no such qualms.
I'm very curious to see what happens with Edgar Wright's potential Ant-Man film after the low performance of Scott Pilgrim vs the World this past weekend. I don't think there's any chance that Wright will be pegged for the film's low gross — he and the cast obviously brought their A-game. But it's weird material that mainstream audiences weren't convinced to take a chance on.
So what about making a movie about a guy who shrinks to almost ant size? If nothing else, it's a simple high-concept premise that should be a lot easier for audiences to swallow. Wright described his current take on the material, which is in its second draft, to Vanity Fair:
I think it's a really interesting high-concept idea. [...] I know there's a big stigma attached to it, mostly because every movie about shrinking has been about people in peril. I think it'd be great to do a shrinking film about a bad-ass secret agent. [...] Even something like The Incredible Shrinking Man, which is a fantastic film, is about a guy in trouble. But this is going to be nothing like that. It's essentially a high-tech spy heist film with somebody with a very particular power.
Finally, Karl Urban has (again?) been confirmed to play Judge Dredd in the upcoming re-do of the story. Producers Andrew Macdonald and Allon Reich confirmed the casting to Empire, backing up Urban's own statements from a couple weeks back.
The film will soon shoot in South Africa, and Macdonald reiterates that it will be "a very hard, R-rated, gritty, realistic movie of Dredd in Megacity, so we've got to get the tone right. He's not going to take off his helmet. His bike is going to feel real. He's going to hit people and it's going to feel real." Hooray for that, at least.