Ben Affleck Replaces Christian Bale In Terrence Malick's Next Film; Rachel Weisz Also Signs On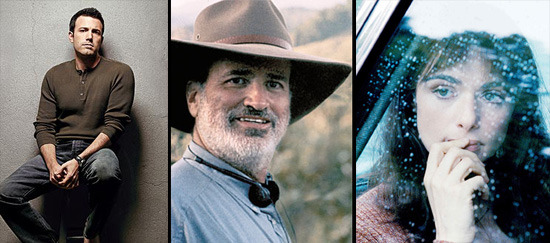 In February a serious bomb dropped from the Terrence Malick camp: not only is the reclusive director prepping one new film (The Tree of Life) for release sometime in coming months, he's got the cast already lined up for another picture that he'll shoot soon.
At the time, Christian Bale, Javier Bardem, Olga Kurylenko and Rachel McAdams were listed as the cast for "an as yet untitled love story." Now Bale is reportedly out, replaced by Ben Affleck, and Rachel Weisz has also signed on.
The Wrap confirmed the casting of Weisz with her publicist, and while Affleck's participation hasn't been officially vetted, he's been seen in and around the Oklahoma town where the film will shoot.
Affleck reportedly told a store employee that he was "filming a movie in Bartlesville, playing a fisherman, and needed to buy some equipment."
Most of the reports about Malick's film gearing up are similarly anecdotal, coming from Tulsa World and local blogs.
The film doesn't yet have a title, or at least the title has not been publicly revealed. We don't even know specifics about the plot, or what sort of character each cast member might play. But when it comes to Malick, secrecy is a constant, and it gives us something to ponder for a while.
And what about The Tree of Life? reports say this new film might shoot as soon as October, which suggests that Malick is done with Tree, or very close to it. There are no scheduled festival appearances for the film as yet, and we still don't have a release date. It could come down at the end of this year, in time to qualify for awards, or we might not see it until festivals in 2011 — Cannes seeming the most likely. (There's always a chance the film could be a mind-blowing special screening at Telluride in early September, as well.)