Jamie Bell Joins Thandie Newton And Cillian Murphy In The Retreat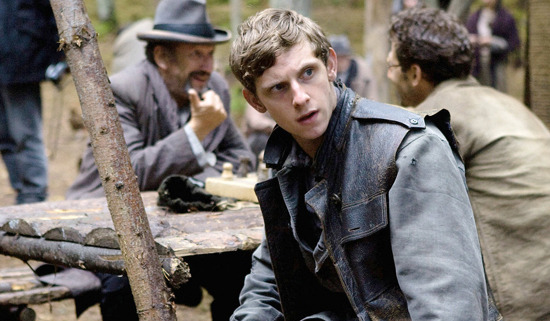 The cast for The Retreat, a thriller about a a husband and wife who have a strange encounter with a soldier while taking an island retreat, has been shifting around in the last year. Thandie Newton has been the constant, and Cillian Murphy is currently playing the other half of the married couple. Now Jamie Bell has been tapped as the third key cast member. Details on who's who and what's what are after the break.
Deadline has Bell joining the cast, but doesn't specify his role. Previous reports have Cillian Murphy playing the husband, which leaves Bell to play the soldier they encounter.
I like Bell — like him a lot, actually — but that's vaguely disappointing, as David Tennant had previously been said to play the solider. I'd really be curious to see Tennant in that sort of role, though Bell could be just fine. This isn't a deal-breaker by any means. Just a change in direction, and quite possibly a better choice in the long run.
(And Jason Isaacs was once being discussed as Newton's wife — I like that the casting is going away from anything resembling a tough guy to slightly more regular men.)
To recap the plot with a bit more detail, The Retreat follows a couple seeking to rebuild their relationship by taking time out on a remote island. But their peace is shattered when they find a man in military uniform (Bell, presumably) half-dead on their doorstep who tells them there is a lethal virus killing millions on the mainland. Carl Tibbets wrote and will make his directorial debut.
I like the sound of the scipt — elements of Dead Calm, maybe, mixed with obvious possible influences like 28 Days Later. But I suspect (or hope, at least) that the film is more of a psychological mindfuck thriller than it is a real zombie movie or other overt genre exercise. Regardless, I like this version of the cast, so let's see it. (And if you've got the script, consider sending it along.)