This Week In DVD & Blu-Ray: Date Night, Death At A Funeral, And More
We may receive a commission on purchases made from links.
This Week in DVD & Blu-ray is a column that compiles all the latest info regarding new DVD and Blu-ray releases, sales, and exclusive deals from stores including Target, Best Buy and Fry's.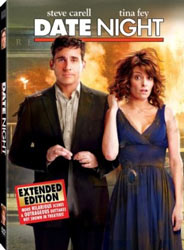 DATE NIGHT
A likable pairing can only take a movie so far, but that doesn't stop Steve Carell and Tina Fey from working their comedic asses off to take Date Night as far as it can possibly go. They are the sole highlights amid the darkness that is Shawn Levy's inert direction, which consumes nearly every element of the film with its studio hackery. There is no tension in the plot, the action is bland and incomprehensible, and the majority of big comedic gags are too broadly handled to be funny. It's almost a miracle that Date Night doesn't drag Carell and Fey down with its middle-of-the-road lameness, but through their genuine chemistry and well-timed improvisational skills, they manage to inject a great amount of spontaneity, warmth and actual humor into the movie. It doesn't quite save it, but it's enough to make the film a semi-enjoyable afternoon rental.
Available on Blu-ray? Yes.
Notable Extras: DVD – Audio commentary with director Shawn Levy, featurettes ("Directing 301 with Shawn Levy", "Directing Off Camera"), an extended car chase, a gag reel, and Date Night PSAs (three versions). Blu-ray – Includes everything on the DVD, as well as deleted and extended scenes, a Disaster Dates with the Cast featurette, Steve and Tina Camera Tests, and a digital copy of the film.
EXCLUSIVE DEAL:
What? Blu-ray 3-in-1 pack comes with Blu-ray, DVD and a digital copy.
Where? Target.
THE JONESES
The Joneses is an indie drama about a dysfunctional family, but with a notable difference from other entries in the subgenre: the family in this case is a group of actors assigned to sell their perfect life to the community. Despite that distinction, which lends itself well to satirization of consumerism in the first half of the film, the film eventually finds its way back to the more familiar plot elements of the genre, transitioning to melodrama with mostly unfulfilling results. Still, that first half works, with the Jones family being representative of everyone who tries to sell a sham image of how happy and perfect they are that's entirely built around "stuff" they have. Their neighbors, meanwhile, are a more direct portrayal of those who buy into the illusion and think that all they need to attain that lifestyle is to fill their lives with those same material possessions, when in reality all they bring is misery. It isn't the most profound of messages—consumerism is bad!—but it's an issue that's readily prevalent in our society, and one that surprisingly few movies have successfully tackled (Fight Club comes to mind, and Revolutionary Road explored similar themes about the dangers of social conformity). While The Joneses isn't as interesting or emotionally compelling as it most assuredly could've been, it conveys its ideas competently and intelligently (though mostly without subtlety), and is suitably diverting overall. The most ingenious aspect of the movie, though, is that it manages to criticize consumerism... by having a film that's overflowing with convincing, in-your-face, and yet 100% narratively justified product placement. I'm sure there's something morally questionable about that hypocrisy, but from a commercialistic standpoint, it's kind of brilliant.
Available on Blu-ray? Yes.
Notable Extras: DVD & Blu-ray – 2 deleted scenes ("Steve's Job Interview", "Steve's Post LifeImage Career").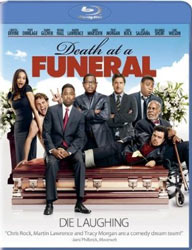 DEATH AT A FUNERAL
Death at a Funeral is the be-all-end-all in pointless remakes. Released three years after the original, it's a scene-for-scene, sometimes shot-for-shot remake of a film that was already in English. Even one of the actors is the same, with Peter Dinklage weirdly reprising his great role from the first movie. The only real stand-out difference between this film and the last is that the cast is now largely comprised of African Americans, which annoyingly feels like nothing more than a studio ploy to get some extra cash from a demographic that is less likely to have seen the original. To the movie's credit, it doesn't waste its talented cast (Martin Lawrence not included) on forced urbanized humor to nearly the extent that the trailer would have you believe, but that's hardly a reason to sing its praises. There is not a single way in which this film improves on the original; only ways in which it falls short, or at best, comes close to equaling. The 2007 Death at a Funeral found a welcome balance between deadpan British humor and farcical slapstick silliness, but the 2010 version provides only the latter. The closest the remake comes to surpassing the original is in its casting of James Marsden. In adopting Alan Tudyk's hilarious role from the original (which is called upon to supply each film with the majority of its biggest laughs), Marsden once again proves himself a better comedic actor than a dramatic one. If there's a reason to see this film, it's him.
Available on Blu-ray? Yes.
Notable Extras: DVD & Blu-ray – An audio commentary with Director Neil LaBute and star Chris Rock, featurettes ("Death For Real", "Death at a Funeral: Last Rites, Dark Secrets"), deleted scenes, and a gag reel.
Other noteworthy DVD (and Blu-ray) releases this week...
Triage [DVD / Blu-ray] – Under the Mountain – My Name is Khan – Letters to God – Multiple Sarcasms [DVD / Blu-ray] – Max Headroom (Complete Series) – Crumb (Criterion Collection) [DVD / Blu-ray] – Louie Bluie (Criterion Collection)
Noteworthy Blu-ray-specific releases this week...
National Lampoon's Vacation – National Lampoon's European Vacation – In the Shadow of the Moon

NOTES: Some deals may be in-store only. All deals are for DVDs unless otherwise noted.

$15.99 – Blu-ray sale: Collateral, War of the Worlds, Minority Report, Taken, Top Gun, Fight Club

$4.99 – The Departed, A Beautiful Mind, Minority Report, King Kong, Turner & Hooch, The Kingdom, Beverly Hills Cop III
$9.99 – Fletch, Across the Universe
$12.99 – Gangs of New York, The Guardian
$14.99 – Sex Drive, Superbad, Zack and Miri Make a Porno

$9.99 – Blu-ray sale: The X-Files, Dude Where's My Car?, Broken Arrow, Flight of the Phoenix, Phone Booth, The Fly, Me Myself and Irene, Drumline, Hollow Man, Interview with the Vampire, Courage Under Fire, Bruce Almighty, Behind Enemy Lines, Unfaithful, The Marine