Terry Gilliam's Arcade Fire Webcast Featured Andrew Garfield And Automatons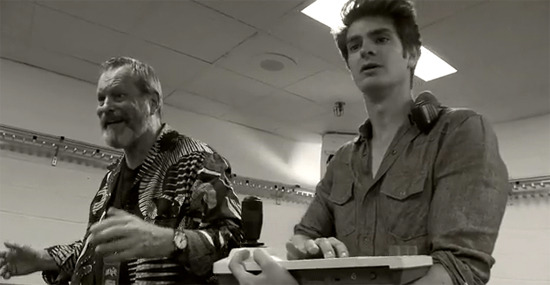 Last night Terry Gilliam directed the live webcast of the band Arcade Fire's performance at Madison Square Garden. Prior to the event, Gilliam said he'd mostly just be following along and trying to keep up. But you know he couldn't simply do that.
The webcast opened with a fun little skit in which Gilliam is revealed to be more of a controlling director than he'd previously let on. And it comes complete with a guest appearance from Andrew Garfield, your future Peter Parker, whom Gilliam directed in The Imaginarium of Doctor Parnassus.
The opening sketch is below, and while I haven't bookmarked the point where things start to get a bit strange, you can skip forward to about seven minutes in, which is where Gilliam's sensibilities really start to come into play. But before that there's a lot of charming behind the scenes stuff featuring Gilliam and the band.
If you missed yesterday's Gilliam update, the director explained some of the reason behind his decision to direct the webcast, saying "And me doing this thing with Arcade Fire is a result of this hiccup with Don Quixote." The 'hiccup' being a problem getting the financing together for The Man Who Killed Don Quixote. But don't get too depressed about that just now, Gilliam fans. Instead, enjoy footage of the director having a ball with this webcast.