Scarlett Johansson In Talks For David O. Russell's 'Old St. Louis'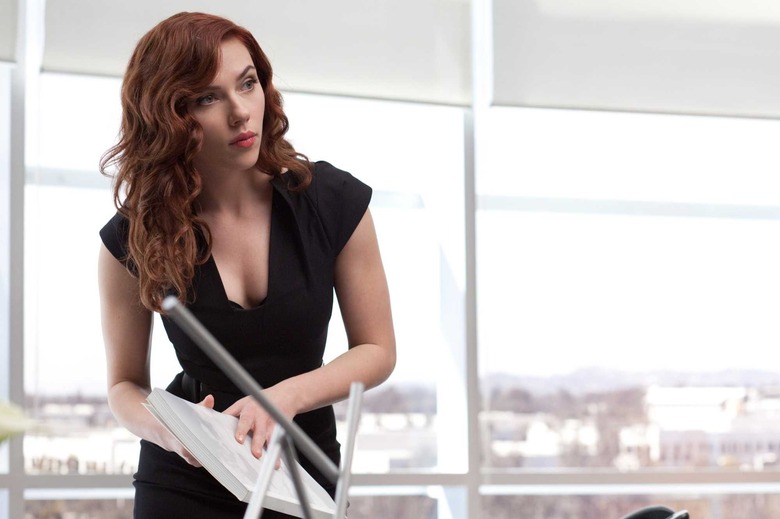 We only just heard about Old St. Louis, the film that now looks to be David O. Russell's next after The Fighter. Vince Vaughn is set to star in the film and there was talk of interest in Chloe Moretz to play his daughter. (No actual word on that latter casting, however, so don't get too attached to that idea just yet.)
Now Scarlett Johansson is likely to sign on to be the female lead.
Vulture says Johansson would be Vaughn's " paramour, a secretary who accompanies them on their cross-country sales jaunt." The 'them' in that sentence is the father-daughter pair to be played by Vaughn and whatever young actress does eventually sign on. Recall the logline from our first piece about the film, which said that Vaugn is "a traveling salesman who has been an absentee father, and how his life changes when his daughter becomes part of his life."
Vulture also has some more details on the film, which were thin when it was first announced. It's not an original Russell script, for one. Apparently it's been kicking around for a few years, and was originally called Toy Men when it looked like Columbia might make it. Multiple writers have had a crack at rewriting. Steve Pink (High Fidelity writer and Hot Tub Time Machine director) and Allen Loeb (writer of Wall Street: Money Never Sleeps) both did work at one point.
But the site does say that the new title and current script credit for David O. Russell are a result of the fact that " it's been so thoroughly rewritten by Russell." So that hopefully puts it squarely back in his wheelhouse. As I said when first covering this, I'm fairly interested to see him return to the sort of work that really made his name in the first place.