First Photo Of Philip Seymour Hoffman In 'Moneyball'; Former A's Exec Has Name Removed From The Film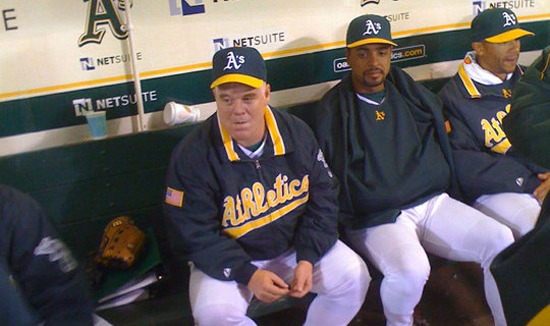 Bennett Miller is finally directing Moneyball with Brad Pitt, Jonah Hill and Philip Seymour Hoffman, and here's the first look at Hoffman as Oakland A's manager Art Howe. Not the most remarkable photo, really, but it at least looks right. Hey, it's a baseball movie striving for at least some vague realism; you can't expect him to be brandishing bats as weapons or anything. See a larger version after the break.
But the more interesting news is that, after years of development, Paul DePodesta, former assistant GM for the A's, is reportedly asking that his name be taken out of the film.
Fanhouse (via The Playlist) reports that DePodesta made the request based on his feeling that the movie version of him was too far from the real thing. "At the end of the day, I just wasn't comfortable with my name on a fictitious character," DePodesta said via email to the site.
(In other words, reports that the wiry DePodesta wasn't happy with the casting of defiantly un-wiry Jonah Hill in his role will remain unconfirmed.)
The character has been renamed Peter Brand, but there's no indication that further changes have been made to parts of the script related to him.
Meanwhile Billy Beane, played by Brad Pitt in the film, spoke enthusiastically about the shooting which recently took place in Oakland:
I think it's been a lot of fun for the people in the organization, seeing the whole process. Everyone who has been involved with the movie has been really respectful of what our priorities are here. But I think people around the organization have really enjoyed it.
Fanhouse also talks about how USC baseball coach Chad Kreuter came in to coach the right-handed actor Chris Pratt in hitting left-handed so he can properly represent his character, Scott Hatteberg. Kreuter also plays former A's pitching coach Rick Peterson. Kretuer said of his work on the film,
We took lots of takes making sure everything is right," Kreuter said. "The directors and producers are very intent on trying to get as much realism out of the baseball scenes as possible. There is not much that's been missed.
[photo of Philip Seymour Hoffman from the film's Facebook page.]