2010 Toronto Film Festival Documentaries Announced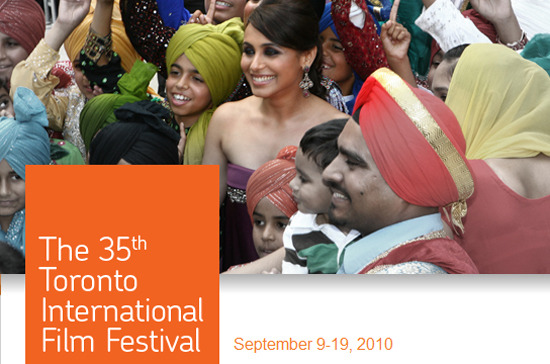 A couple weeks ago, the Toronto International Film Festival announced their line-up of Galas and Special Presentations (aka the major films premiering at the festival). The list of films included Robert Redford's The Conspirator; George Hickenlooper's Casino Jack, The Bang Bang Club, starring Ryan Phillippe, Barney's Version, starring Paul Giamatti, Darren Aronofsky's Black Swan, Ben Affleck's The Town, Alejandro Gonzalez Innarittu's Biutiful, Sylvain Chomet's The Illusionist, Kim Jee-woon's I Saw the Devil and Michael Winterbottom's The Trip.
Today the festival announced their documentary selections, which include Errol Morris' Tabloid, Thom Zimny's Bruce Springsteen doc The Promise: The Making of Darkness on the Edge of Town, Kim Longinotto's Pink Saris, and Werner Herzog's 3-D cave drawing documentary Cave of Forgotten Dreams. Hit the jump to see the full TIFF documentary line-up.
FOR IMMEDIATE RELEASE
August 4, 2010
ERROL MORRIS, BRUCE SPRINGSTEEN, KIM LONGINOTTO AND WERNER HERZOG (IN 3-D!) LEAD A LINE-UP OF DOCUMENTARY ALL-STARS
Toronto – The Toronto International Film Festival proudly presents a veritable who's who of documentary filmmaking as Errol Morris explores a woman's bizarre search for one true love in Tabloid, Thom Zimny reveals Bruce Springsteen's creative process in The Promise: The Making of Darkness on the Edge of Town, Kim Longinotto tracks an Indian feminist group in Pink Saris, and Werner Herzog films humankind's earliest known images in 3-D in Cave of Forgotten Dreams. These are a few of the high-profile world premieres among the documentaries screening at this year's Festival.
"I'm thrilled that we've been able to program a documentary line-up with so many acclaimed filmmakers this year," said Thom Powers, TIFF programmer. "From Oscar winners and nominees to Emmy award-winners, these talented filmmakers have created works that will be debated and discussed for months to come. They reinvigorate our thinking about subjects like the war in Afganistan, the banking crisis, and the future of energy."
Emotions run the gamut as The Skeptical Environmentalist stirs controversy in Cool It, Guerrilla Girls fight the establishment in !Women Art Revolution – A Secret History, sex collides with politics in Client 9: The Rise and Fall of Eliot Spitzer and Indian children perform The Sound of Music in The Sound of Mumbai: A Musical.
Gala
The Promise: The Making of Darkness on the Edge of Town Thom Zimny, USA
World Premiere
The Promise: The Making of Darkness on the Edge of Town takes us into the studio with Bruce Springsteen and the E Street Band for the recording of their fourth album. Grammy and Emmy Award-winning filmmaker Thom Zimny has collaborated with Springsteen on this documentary, gaining access to never before seen footage shot between 1976-1978, capturing home rehearsals and recording sessions that allow us to see Springsteen's creative process at work.
Masters
Erotic Man Jørgen Leth, Denmark
World Premiere
Danish master Jørgen Leth travels the globe in this sensual, provocative and sometimes autobiographical essay film about a man searching ... searching the world for the nature of the erotic.
Nostalgia for the Light Patricio Guzmán, France/Germany/Chile
North American Premiere
In Chile's Atacama Desert, astronomers peer deep into the cosmos in search for answers concerning the origins of life. Nearby, a group of women sift through the sand searching for body parts of loved ones, dumped unceremoniously by Pinochet's regime. Master filmmaker Patricio Guzmán contemplates the paradox of their quests.
Real to Reel
ANPO Linda Hoaglund, Japan/USA
World Premiere
ANPO depicts resistance to U.S. military bases in Japan through an electrifying collage of paintings and photographs, as well as animated, narrative and documentary films by Japan's foremost contemporary artists.
Armadillo Janus Metz, Denmark
North American Premiere
Winner of Cannes Critics Week, Armadillo is a harrowing portrayal of the current conflict in Afghanistan. The film follows a contingent of Danish troops into the chaos of combat in a way that stirs debate over the rules of engagement.
Boxing Gym Frederick Wiseman, USA
North American Premiere
Documentary master Frederick Wiseman explores the world of a boxing gym in Austin, Texas, dwelling on the discipline of training as people from all walks of life aspire to reach their personal best.
Cave of Forgotten Dreams Werner Herzog, USA
World Premiere
Werner Herzog gains exclusive access to film inside the Chauvet caves of southern France, capturing the oldest known pictorial creations of humankind in their astonishing natural setting. He puts 3-D technology to a profound use, taking us back in time over 30,000 years.
Client 9: The Rise and Fall of Eliot Spitzer Alex Gibney, USA
World Premiere
Investigating the sex scandal that forced New York's Governor to resign, Oscar-winning director Alex Gibney gains revelatory interviews from Spitzer, his most frequent escort and his Wall Street enemies that bring new perspective on his downfall
Cool It Ondi Timoner, USA
World Premiere
Award-winning filmmaker Ondi Timoner trains her camera on Bjorn Lomborg, the controversial author of "The Skeptical Environmentalist," who takes on the issue of climate change, challenging the status quo, and pointing toward new science and technology that might hold the solutions for our future.
The Game of Death Christophe Nick & Thomas Bornot, France
North American Premiere
This documentary examines the idea of the limits of obedience and punishment. Based on an experiment conducted in the sixties, the setting is a modern television game show where we see how far people will go to inflict pain on a contestant who stands to win one million dollars.
Genpin Naomi Kawase, Japan
World Premiere
A serene observation of women giving birth at the clinic of Dr. Tadashi Yoshimura who has spent 40 years on the path of natural childbirth, Genpin is Naomi Kawase's special meditation on life and on the unshakable bond between mother and child.
Guest Jose Luis Guerin, Spain
North American Premiere
Filmmaker Jose Luis Guerin documents his experience during a year of travelling as a guest of film festivals to present his previous film. What emerges is a wonderfully humane and sincere portrayal of the people that he meets when he goes off the beaten track in some of the world's major cities.
Inside Job Charles Ferguson, USA
North American Premiere
An in-depth exploration of what caused the financial crisis from the Oscar-nominated director of No End in Sight, highlighting failures in business, government and academia.
Machete Maidens Unleashed! Mark Hartley, Australia
International Premiere
From cult cinema documentary director Mark Hartley (Not Quite Hollywood) comes this account of the wild and unruly world of genre filmmaking in the Philippines when the country was a back-lot for a bevy of B-movie mavericks and cinema visionaries.
Mother of Rock: Lillian Roxon Paul Clarke, Australia
International Premiere
Witness to New York's infamous punk scene, Lillian Roxon chronicled the movement during the 1960s and 70s. Roxon mingled with the likes of John and Yoko, the Velvet Underground and Janis Joplin and was one of the first on the scene to champion the work of Bob Dylan, Jimi Hendrix and the Doors.
Pink Saris Kim Longinotto, UK
World Premiere
Acclaimed director Kim Longinotto is often drawn to tough women. Now she follows Sampat Pal Devi, the leader of the "Pink Gang," who brings her own brand of justice to the streets of Uttar Pradesh, India, combating violence against women.
The Pipe Risteard Ó Domhnaill, Ireland
International Premiere
Irish farmers and fisherman rise up in protest when Shell tries to build a pipeline for natural gas through their county. The local confrontation reflects an international concern for how energy companies affect the environment and communities.
Precious Life Shlomi Eldar, Israel
International Premiere
With the help of a prominent Israeli journalist, Precious Life chronicles the struggle of an Israeli pediatrician and a Palestinian mother to get treatment for her baby, who suffers from an incurable genetic disease. Each must face their most profound biases as they inch towards a possible friendship in an impossible reality.
The Sound of Mumbai: A Musical Sarah McCarthy, United Kingdom
North American Premiere
For one emotional night, a group of children living in a slum in Mumbai, India, get a chance to experience a different world as they
perform The Sound of Music with a classical orchestra, fostering hopes that it could change their lives.
Tabloid Errol Morris, USA
World Premiere
The director of The Thin Blue Line and the Academy Award®-winning The Fog of War tells the story of a former Miss Wyoming whose quest for one true love led her across the globe and onto the pages of tabloid newspapers.
Tears of Gaza Vibeke Løkkegerg, Norway
World Premiere
A powerful and emotionally devastating record of the impact the 2008-2009 bombings of Gaza had on the civilian population.
When My Child is Born Guo Jing & Ke Dingding, China
World Premiere
When a child is born, nothing is ever going to be the same. A journey into the everyday life of young university teachers and researchers up against an unexpected pregnancy, as well as a brilliant document on the challenges of being an academic suspended between modernization and tradition, love, career and family ties in ever-mutating contemporary China.
Windfall Laura Israel, USA
International Premiere
After wind turbines are proposed for installation in upstate New York, the community's excitement turns to suspicion over what the project entails. This eye-opening story exposes the dark side of wind energy development and the potential for financial scams.
!Women Art Revolution – A Secret History Lynn Hershman Leeson, USA
World Premiere
Filmed over four decades, this inspiring cultural history tracks the struggles and breakthroughs of women artists from Judy Chicago to Guerilla Girls to Miranda July and more, packed with rare archival footage and overflowing with bold art.
Sprockets Family Zone
Make Believe J. Clay Tweel, USA
International Premiere
Join a group of dedicated teen magicians as they amaze audiences by performing seemingly impossible feats while they pursue their dream of becoming the Teen World Champion Magician.
** Note that L'Amour Fou, directed by Pierre Thoretton, was previously announced on July 27 and will be screened as a Special Presentation. Additional documentaries, including Canadian films, will be announced in the coming weeks.**
Ticket packages for the Festival are now available for purchase by cash, debit or Visa†. Purchase online at tiff.net/thefestival, by phone at 416-968-FILM or 1-877-968-FILM (Monday through Friday, 10 a.m. to 7 p.m.,) or in person at the TIFF Box Office at 2 Carlton Street, West Mezzanine (Monday to Friday: 10 a.m. – 7 p.m. The 35th Toronto International Film Festival runs September 9
to 19, 2010.
About TIFF Bell Lightbox:
Currently under construction, TIFF Bell Lightbox, a breathtaking five-storey complex located in downtown Toronto, will provide a permanent home for film lovers to celebrate cinema from around the world and will propel TIFF forward as an international leader in film culture. Designed by innovative architecture firm KPMB, TIFF Bell Lightbox's fluid structure encourages exploration,
movement and play. The campaign to build TIFF Bell Lightbox is generously supported by founding sponsor Bell, the Province of Ontario, the Government of Canada, the City of Toronto, the King and John Festival Corporation – consisting of the Reitman family and the Daniels Corporation – RBC as major sponsor and official bank, Visa†, the Copyright Collective of Canada, the Slaight Family Foundation, NBC Universal Canada, the Brian Linehan Charitable Foundation, the Harbinger Foundation, CIBC and BMO. The Board of Directors, staff and many generous individuals and corporations have also contributed to the campaign. For more information on the TIFF Bell Lightbox campaign, visit belllightbox.ca.
About TIFF:
TIFF is a not-for-profit cultural organization whose mission is to transform the way people see the world through film. Its vision is to lead the world in creative and cultural discovery through the moving image. TIFF generates an annual economic impact of $170 million CAD and currently employs more than 100 full-time staff and 500 part-time and seasonal staff, and counts upon the
largesse of over 2,000 volunteers year-round.
The Gala programme is made possible through the generous support of ET Canada on Global.
The Masters programme is made possible through the generous support of BMO Nesbitt Burns.
The Real to Reel programme is made possible through the generous support of A&E Indie Films.
The Toronto International Film Festival is generously supported by Lead Sponsor Bell, Major Sponsors RBC and BlackBerry, the Government of Ontario, Telefilm Canada, and the City of Toronto.