This Week In DVD & Blu-Ray: Clash Of The Titans, Repo Men, And More
We may receive a commission on purchases made from links.
This Week in DVD & Blu-ray is a column that compiles all the latest info regarding new DVD and Blu-ray releases, sales, and exclusive deals from stores including Target, Best Buy and Fry's.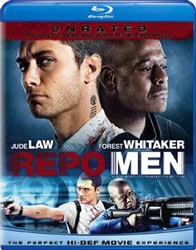 REPO MEN
Paul Verhoeven has enough trouble finding love from critics as it is, so it's no wonder that a filmmaker emulating Verhoeven would have an even harder time. Repo Men was ripped apart by critics when it hit theaters, and its box office performance did little to compensate. On DVD though, it stands to shine. Those who love Verhoeven's absurdist mix of grotesquely over-the-top violence and cynical satire will likely be able to overlook many of the film's shortcomings, such as its trite romance and repellant characters. I can see why a lot of people would hate the film, but there's a trashy weirdness to it that kept me interested—enough, anyway, to suggest considering it for a rental.
Available on Blu-ray? Yes.
Notable Extras: DVD & Blu-ray – Both rated and unrated cuts of the film will be included, as well as deleted scenes, The Union Commericals, an Inside the Visual Effects featurette.
EXCLUSIVE DEAL:
What? Exclusive Blu-ray + DVD Edition.
Where? Best Buy.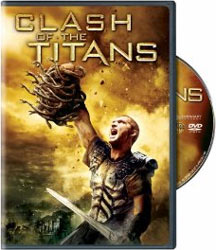 CLASH OF THE TITANS
Never would I have imagined that I'd have so little enthusiasm for a movie in which humans battle giant scorpions. Clash of the Titans has all the ingredients for a fun, rollicking action-adventure flick, with plenty of potential to take the abundance of enjoyably silly set pieces from the original and utilizing updated special effects to bring new life to dated material, but it fails at accomplishing that task on every conceivable level. No time is taken to let the audience invest in what's going on, either on an emotional level or even on an excitement level. It lifelessly rushes through literally every plot beat and action set piece, with all the sense of wonder of a stoic glare from Sam Worthington. Once finished drudging through the perfunctory exposition separating each action sequence, I awaited each progressive fantastical moment wondering: Well, maybe this scene will be cool. And with each progressive fantastical moment, I left wondering: What the fuck was that?
Available on Blu-ray? Yes.
Notable Extras: DVD – Additional scenes. Blu-ray – Includes everything on the DVD, as well as an alternate ending, a Sam Worthington: An Action Hero for the Ages featurette, and a Maximum Movie Mode.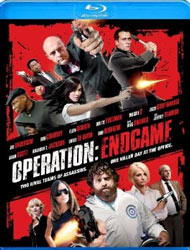 OPERATION: ENDGAME
I already geeked out over this direct-to-DVD action-comedy's cast when discussing the trailer earlier this month—here's a refresher: Zach Galifianakis, Rob Corddry, Adam Scott, Bob Odenkirk, Jeffrey Tambor, Maggie Q, Ving Rhames—and now the film is available to find out if that cast has been wasted. There are only four reviews so far on Rotten Tomatoes, but they don't instill me with much hope.
Available on Blu-ray? Yes.
Notable Extras: DVD & Blu-ray – An alternate opening, an alternate ending, and a behind-the-scenes featurette.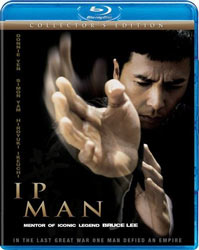 IP MAN
It's the martial arts sequences and not the aggrandized storyline that have been receiving praise in IP Man, a semi-biographical account of the first martial arts master to teach the Chinese martial art of Wing Chun. Watch the trailer here.
Available on Blu-ray? Yes.
Notable Extras: DVD – A Making-of Featurette, and Deleted Scenes. Blu-ray – Includes everything on the DVD, as well as Cast and Crew Interviews, a Shooting Diary, and Behind the Sets.
Other noteworthy DVD (and Blu-ray) releases this week...
Batman: Under the Red Hood [DVD / 2-Disc DVD / Blu-ray] – The Art of the Steal – Secret of the Grain (Criterion Collection) [DVD / Blu-ray]
Noteworthy Blu-ray-specific releases this week...
Rambo (Extended Cut) – Rambo (the Complete Collector's Set) – Crouching Tiger, Hidden Dragon – G.I. Joe: The Movie

NOTES: Some deals may be in-store only. All deals are for DVDs unless otherwise noted.

Exclusive: Red Hood figurine on pack with Blu-ray ($22.99) and 2-Disc DVD for Batman: Under the Red Hood.
$14.99 – Blu-ray sale: The Hangover, The Final Destination, The Invention of Lying, Terminator Salvation, Watchmen (Director's Cut), Whiteout, Harry Potter and the Order of the Phoenix, Harry Potter and the Half-Blood Prince
$7.99 – The Hangover, Observe and Report, Pandorum, The Boondock Saints, Green Street hooligans, Willy Wonka and the Chocolate Factory, Terminator Salvation

$9.99 – Blu-ray sale: Friday, Contact, Robin Hood: Prince of Thieves, 2010, Interview with the Vampire, Appaloosa, Get Smart, The Assassination of Jesse James, The Postman, The Fountain, 17 Again, Sex and the City, Ocean's Eleven, The Bucket List, American History X, Ocean's Thirteen, Risky Business