New Poster: Mark Romanek's 'Never Let Me Go'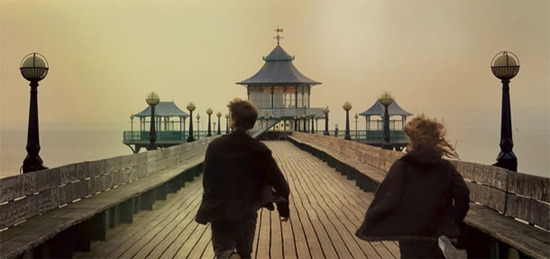 I hadn't seen a proper projection of the trailer for Mark Romanek's new film, Never Let Me Go, until I sat through the Trailer Park exhibition in Hall H at the San Diego Comic Con. Talk about weird — Romanek's very quiet movie was sandwiched in between a lot of big-ticket films, and the contrast was pretty striking. (Plus, it was amusing to hear nearly the entire hall whisper 'that's the new Spider-Man,' not when Andrew Garfield's face was shown, but when his credit was written on screen.)
Now there's a new poster for the film, and the image captures some of the idea of hope and escape that permeates the latter half of the trailer.
Looking at these elements, I'm glad that Romanek didn't end up with The Wolfman. As much as seeing his version of that film would have been fun, I think I'm going to be happier that we ended up with Never Let Me Go. The script is by Alex Garland (Sunshine) and is based upon Kazuo Ishiguro's novel. The film stars Carey Mulligan, Keira Knightley, Andrew Garfield, Charlotte Rampling, Sally Hawkins, Nathalie Richard and Andrea Riseborough. Here's the official synopsis:
In his highly acclaimed novel NEVER LET ME GO, Kazuo Ishiguro (THE REMAINS OF THE DAY) created a remarkable story of love, loss and hidden truths. In it he posed the fundamental question: What makes us human? Now director Mark Romanek (ONE HOUR PHOTO), writer Alex Garland and DNA Films bring Ishiguro's hauntingly poignant and emotional story to the screen. Kathy (Oscar® nominee Carey Mulligan, AN EDUCATION), Tommy (Andrew Garfield, BOY A, RED RIDING) and Ruth (Oscar® nominee Keira Knightley, PRIDE & PREJUDICE, ATONEMENT) live in a world and a time that feel familiar to us, but are not quite like anything we know. They spend their childhood at Hailsham, a seemingly idyllic English boarding school. When they leave the shelter of the school and the terrible truth of their fate is revealed to them, they must also confront the deep feelings of love, jealousy and betrayal that threaten to pull them apart.
[via The Film Stage]