The Best And Worst Of Comic-Con 2010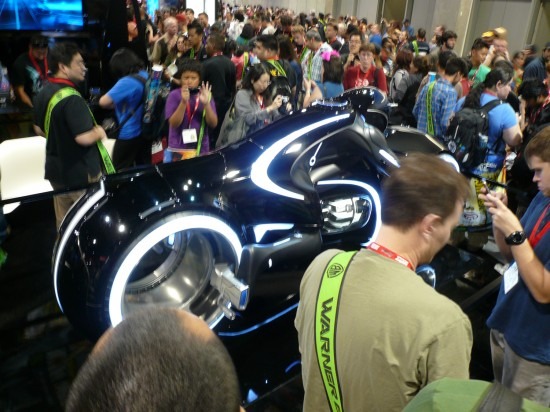 Comic-Con 2010 is over, and I'm still reeling from the experience. Just like last year, the entire event was a whirlwind with insane crowds, a healthy dose of line waiting, and some unexpected bits of awesome. By the time it was over, I was more than ready to go home. But I know for a fact that in a week or two I'll be screaming "We have to go back!" — while disheveled and inexplicably bearded.
At some point this week, the entire /Film crew will record their overall thoughts of the event on a special episode of the /Filmcast. But for now, here are my personal picks for the best and worst of Comic-Con 2010. (Fair warning: I didn't include some major panels [see: Marvel stuff] that failed to get me excited. If you liked those panels, and others I didn't mention let us know in the comments.)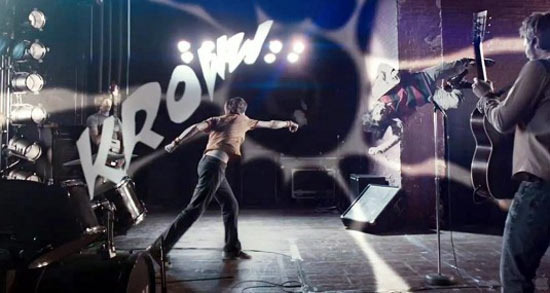 We knew that Scott Pilgrim was going to be a major presence at the con this year. After all, we're only a few weeks away from the release of Edgar Wright's Scott Pilgrim vs. the World, and the sixth and final volume of the series was released right before the convention as well. But I wasn't prepared for just how impressive the Scott Pilgrim marketing machine would be.
By now you've probably heard about the elaborate early screening effort for the film. During the Scott Pilgrim panel on Thursday, director Edgar Wright announced that they would be screening the film for lucky attendees shortly after the panel ended. He personally walked a massive crowd of attendees to the Balboa Theater, where they were treated to beats laid down by Dan the Automator and Kid Koala before the screening began. After the film ended, the movie screen lifted to reveal Metric, who played a small concert — starting off with their contribution to the film.
Needless to say, the experience was magical — despite being well aware that it was just a well-played marketing move. I think Time's Lev Grossman described it best by calling it  "pampering on the level that makes you feel like you're some kind of evil ancient god-emperor."
You can view the crowd response that I recorded below, and we also discussed the event in our Scott Pilgrim video review. Universal also ended up screening the film two more times over the weekend, so those who were left out on Thursday also got to join in on the fun.
Then there was the Scott Pilgrim Experience, which offered up customized t-shirts, a look at the Scott Pilgrim game, as well as other interactive bits. Cast members of the film were on hand to sign posters, and Edgar Wright himself spent quite a bit of time at the event. Creator Bryan Lee O'Malley also spent quite a bit of time at the Oni Press booth on the show floor signing books left and right.
3D Backlash
While last year's Comic-Con seemed heavy on the possibilities of 3D cinema — what with Avatar and the first 3D Tron Legacy footage — this year it was interesting to see just how many filmmakers seemed averse to it — in particular, the idea of post-converting a 2D film to 3D.
When asked about the 3D conversion for Cabin in the Woods, Joss Whedon had the following to say:
The 3D thing came because they looked at the schedule and said, "Oh my God, every horror movie is going to be 3D forever, or for the next few years, and so we should convert it." Now, that, by the way, may still happen.
But Drew shot something very specifically in a classical mode. Like, he went away from really in your face and trying to keep things sort of...You know, we were studying John Carpenter, and really keep the suspense, and make it almost a little old fashioned.
So what we are hoping to do is be the only horror movie when we come out that is not in 3D, so that we can advertise: "2D! You believe things can move across the screen!" [xx 20:21] It's going to be...you know, it's going to revolutionize the industry.
Let Me In
If you watched our video blog response to the Let Me In footage and panel, you're already well aware just how much we dug what we've seen of Matt Reeves' (Cloverfield) take on the Swedish book/film. To put it simply: It seems clear that Reeves gets the material. Both Kodi Smit-McPhee and Chloe Moretz seemed perfect for their roles as hurt and lonely children, and Richard Jenkins appeared to be instantly compelling as Moretz's caretaker.
The Walking Dead
I'm usually the person who ends up doing  a lot of TV coverage at Comic-Con, and this year I was grateful because it meant I got to cover the panel for AMC's The Walking Dead — an adaptation of the comic series which is being spearheaded by Frank Darabont. I've already written up a big piece on the panel and footage, and you can view a cammed copy of the footage here.
It's an ongoing, big-budget zombie series that looks a lot like Justified. You bet your ass I'm excited.
Terrible Panel Scheduling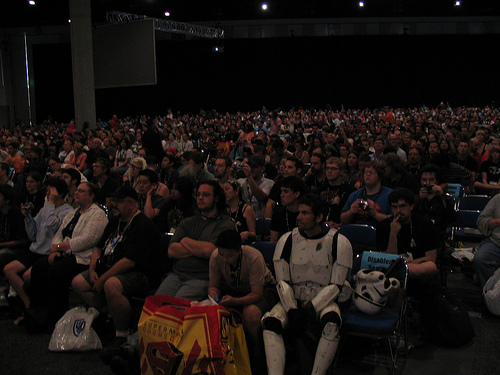 Even without a Twilight panel, things weren't entirely rosy for Comic-Con's Hall H schedule. Normally, Thursday is the busiest day for Hall H, and while it was certainly bustling this year, Saturday ended up being far more hectic. Meanwhile, Friday was oddly quiet — to the point where the hall never actually filled up.
While I'd normally welcome the respite, it seemed strange that some of the biggest panels of the convention were stacked against each other on Saturday. That led to a nightmare scenario getting in for the first few panels, and it was also practically impossible for anyone to get in for the afternoon panels as well. Had some of those been swapped with something from a quieter day like Friday — perhaps Green Lantern, which didn't have much to show — Saturday would have been far less crazy.
[Image via Latino Review]
Pushy Marketers
That Comic-Con is quickly become a marketing maelstrom is news to no one, but this year the marketing flaks were even more aggressive than usual. It was especially bad at the 5th Avenue streetcar crossing that separates the Convention Center from downtown San Diego. Perhaps because it's such a bottleneck for foot traffic, many TV and movie marketing teams decided to camp out right at the crossing and try everything in their power to make con-goers notice them.
They would usually just hand out a small piece of marketing fluff, but more than once they continued to badger me and others even after we declined their crap. The marketers also had the bad habit of jumping right in your way as you moved back and forth from the convention center, making the already-packed crossing even more tortuous.
Towards the end of the con, it was clear that the marketers hated what they were doing as much as the people they were annoying.
[Photo: 5th Ave crowds during Comic-Con 2009 via Robert Patrick]
Resident Evil: Afterlife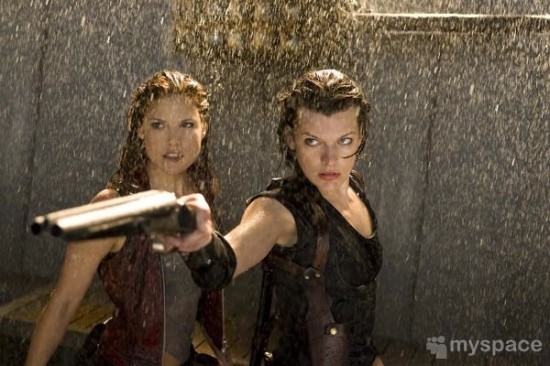 Seriously Paul W.S. Anderson, why do you even try to sell us on these films anymore? I didn't expect much when Anderson came on stage during the film's panel — alongside his wife and star Milla Jovovich, returning co-star Ali Larter (Heroes), and newcomer Wentworth Miller (Prison Break) — but I walked away with the understanding that he and Jovovich seem to live in a dream world where they think everybody loves the Resident Evil franchise. Needless to say, nothing interesting came out of the panel.
When they showed a clip of Jovovich and Larter fighting a giant axe-wielding character called The Executioner (from the Resident Evil 5 game), it seemed as if the entire audience was stupefied by what they were seeing. The scene appeared to be shot entirely in slow motion, had no sort of tension or flow, and it seemed as if none of the actors on screen were ever in the same room with each other. Oh yes, and the 3D was complete shit.
The clip was embarassing for everyone in the room. The audience was thoroughly unenthused (there were audible groans throughout the clip), and Jovovich, who had hyped up how awesome the clip would be beforehand, backtracked and said she was actually thinking of another scene. I believed her at the time, but now I'm wondering if that was just a sly way of convincing the audience that the film gets better at some point.
Your Turn
That's it for my Comic-Con 2010 picks, but we're interested to hear what excited and disappointed you most. Even if you didn't attend, you likely caught a decent of Comic-Con coverage via /Film and other sites. Let us know your thoughts in the comments below!