Comic-Con: Watch The Avengers Assemble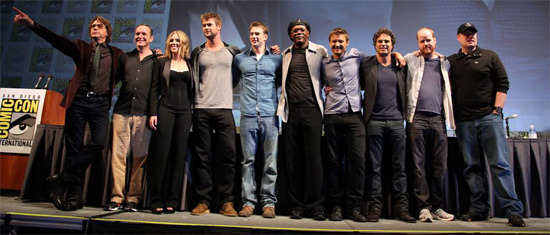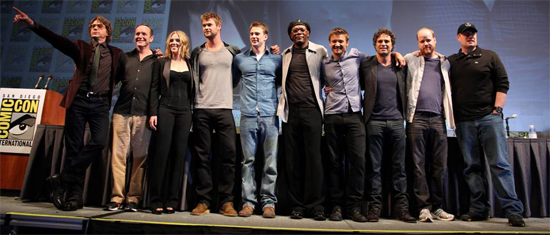 On Saturday afternoon, Marvel Entertainment announced the line-up of their upcoming superhero team-up film The Avengers, on the stage in Hall H at Comic Con. You can read Russ' full recap here. But a recap can't accurately convey the atmosphere and electricity that was in the air as The Avengers assembled live on stage infront of a packed crowd of over 6,000 comic book geeks. Thankfully, someone in the audience captured the moment on video. Watch it now, embedded after the jump.
Two Different angles:
Samuel L Jackson (Nick Fury)  introduced the cast: Clark Gregg (SHIELD Agent Coulson), Chris Evans (Captain America) and Chris Hemsworth (Thor), Robert Downey, Jr. (Iron Man), Scarlett Johansson (Black Widow) and new additions: Jeremy Renner as Clint Barton, aka Hawkeye, and Mark Ruffalo as Bruce Banner, aka The Hulk.