Comic-Con: Infinity Gauntlet Revealed; Theories About How It Will Factor Into Thor, Captain America, And The Avengers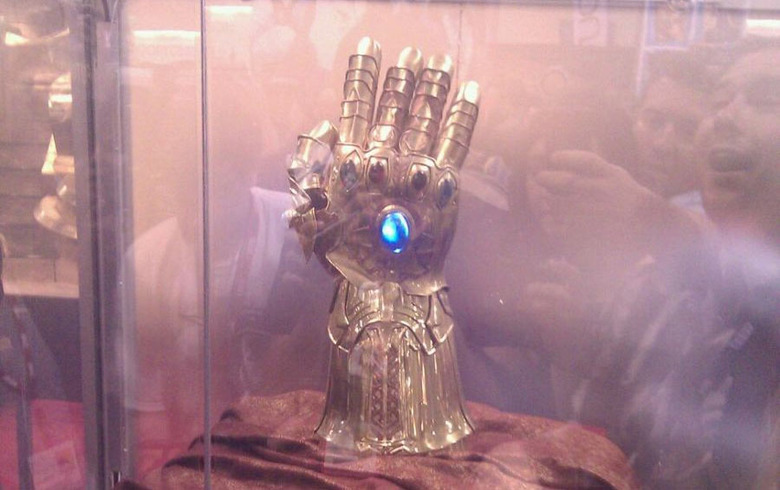 I had assumed Marvel was done with their Comic-Con unveilings after bringing the full cast of The Avengers on stage following their panel for Captain America: The First Avenger and Thor, but they had one last reveal in store for unsuspecting fans on the show floor, wheeling out a golden glove embedded with jewels in front of its massive Hall of Asgard set recreation. iFanboy snapped a couple images of the encased movie prop, which Marvel showed off for about five minutes before hauling it away.
The glove is the Infinity Gauntlet, which can be used in unison with the sentient Infinity Gems to harness complete control of the universe. Learn more about its potential relation to the aforementioned films after the break.
I'm gonna call it right now and predict that, assuming Marvel is sticking the mythology of the comics, this reveal of the Infinity Gauntlet is evidence that either Loki (Thor's arch nemesis) or Thanos (a mutant member of the race of superhumans known as the Titanian Eternals) will be the central villain of The Avengers. In the Marvel comics, Loki attempts to harness the power of the Infinity Gauntlet by stealing the Infinity Gems, and also pursues the Cosmic Cube, which was featured in the Captain America Comic-Con footage. Thanos is also a possibility, as he too sought after the Cosmic Cube, and more importantly, is the creator of the Infinity Gauntlet.
Marvel has going to great lengths to integrate these movies, and this would be a very clever way to tie the Thor and Captain America universes together for The Avengers. It'll be several years until we find out if my theories have any validity to them, but if they do, I will feel at least somewhat justified in my excessively geeky speculation.
You guys can speculate for yourselves in the comments below.