Star Trek Sequel To Shoot In January, Or Not Until Summer 2011?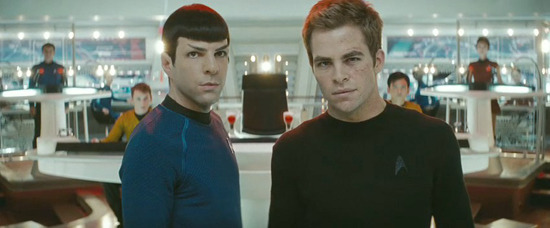 You can only rely on actors to a certain degree for info about when a film will shoot. (See: Michael Caine with respect to Batman 3, or the returning cast talking about The Hobbit.) Not because they're deliberately sowing misinformation, but because they're only privy to one part of the decision making process. And that's usually the last part.
So when Bruce Greenwood says that the sequel to J.J. Abrams' Star Trek will shoot in January, it might be an indicator and nothing more. Greenwood, who played Christopher Pike in Star Trek, told Hollywood.com that he hoped for a role in the film and "I just know that the plan is to film it in January, more than that, I don't know."
So...he doesn't know for sure that he's got a role, but does know when the movie is filming? Interesting. Especially in light of the fact that producer Bryan Burk two weeks ago told TrekMovie.com that "We will be shooting this time next year. Starting early summer or late spring." If that ends up being the case, pre-production might begin in January, or earlier, so that might be the date that Greenwood heard.
Meanwhile, Burk also talked in vague terms about the sequel, noting that things are only partially set as the story is just being worked out. Says Burk,
Monetarily I can't talk about anything because there is no script yet. I can tell you as we go into it, that our aspirations are for the movie to be even bigger and better than the first one. I don't mean that just in scope, I mean content and characters and emotionally. We had a lot of conversations about Batman Begins and how that movie kind of re-invented that franchise, and we looked at what The Dark Knight did and how that really ramped it up and they went to a different place with that film, and how those two films keep re-inventing themselves and are not the same thing every time. So we have strong ideas of what we want to do and we are hoping that this one is an even bigger film than the last one.