New Photo: Johnny Depp As Captain Jack Sparrow In Pirates Of The Caribbean: On Stranger Tides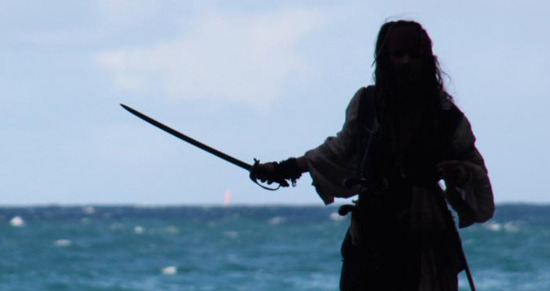 We've already seen a couple of on-set images showing Johnny Depp in costume as Captain Jack Sparrow in Pirates of the Caribbean: On Stranger Tides. But now there's an official still featuring Depp as Sparrow, and it is...very much like the other pictures! But producer Jerry Bruckheimer personally sent this image out via Twitter, so at least you know it comes straight from the source. 
Here's the full image, which you can click for a larger version. Underneath is a blowup of Depp which has been lightened a bit so you can see more costume detail.
Here's a big chunk 'o plot information to refresh your memory about the film:
In this action-packed tale of truth, betrayal, youth and demise, Captain Jack Sparrow crosses paths with a woman from his past (Penelope Cruz), and he's not sure if it's love–or if she's a ruthless con artist who's using him to find the fabled Fountain of Youth. When she forces him aboard the Queen Anne's Revenge, the ship of the formidable pirate Blackbeard (Ian McShane), Jack finds himself on an unexpected adventure in which he doesn't know who to fear more: Blackbeard or the woman from his past.
"Pirates of the Caribbean: On Stranger Tides," directed by Rob Marshall ("Chicago") will be filmed and presented in Disney Digital 3D(TM). Johnny Depp returns to his iconic, Academy Award(R)-nominated role of Captain Jack Sparrow, newly joined by Academy Award winner Penelope Cruz, Ian McShane and newcomers Astrid Berges-Frisbey and Sam Claflin. Also rejoining Johnny Depp and Captain Jack are Academy Award-winner and three-time nominee Geoffrey Rush and Kevin R. McNally. The film is slated to open May 20, 2011.