First Look: The Cast Of Sucker Punch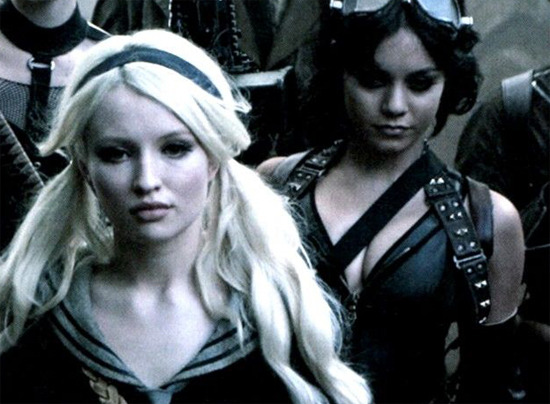 The Entertainment Weekly Comic Con preview issue is starting to make its way out into the world and onto the beds of scanners everywhere. There were a half dozen Green Lantern photos from the mag yesterday, and today there's the first real image from Zack Snyder's Sucker Punch.
Here you can see (l-r) Abbie Cornish, Jena Malone, Emily Browning, Scott Glenn, Vanessa Hudgens and Jamie Chung. The film follows Emily Browning's character, Babydoll, who is confined to a mental institution from which she fantastizes an alternate reality. Browning and the other girls seen here are all wards of the institution, and this shot is part of the fantasy reality, in which Browning is trying to find a handful of objects that will allow her to escape.
Snyder has said many times that the film will be a dark, violent fantasty full of guns, action and monsters, and this photo certainly suggests that he wasn't exaggerating. We'll know more when we see footage at Comic Con next week.