New Photo: Simon Pegg And Andy Serkis In Burke & Hare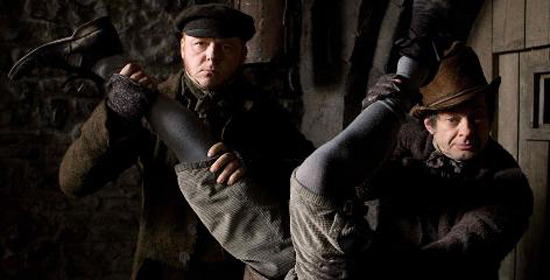 Well, this photo of Simon Pegg and Andy Serkis in Burke & Hare is quite a bit like the few other photos we've seen of the duo in the movie: grim faces, deep shadows, great hats. Sure, this time there is what appears to be the legs of a corpse in the frame with them, but oh..wait..the Cannes sales art had legs, too.
Regardless, this is (I believe) the first real, official still from the film, if you don't count the composite from the Cannes poster. So what's really new here? Well, along with the photo there are some quotes from director John Landis, who is returning to features after quite some time working in other modes.
USA Today has the image and quotes. Burke and Hare are "a very evil Laurel and Hardy," Landis says, but he insists the movie isn't a horror film. "It has horror things within it — it's about dissection and grave robbing, after all — but it's a very black romantic comedy, hopefully in the tradition of the old Ealing Studios' Kind Hearts and Coronets and The Ladykillers."
That's quite a sales pitch, as if Landis directing Pegg and Serkis in a tale of 19th century corpse salesmen wasn't enough.  If he can actually nail that Ealing Studios tone — a thing that has proven to be rather elusive when other directors shoot for it — I might be positively ecstatic over this film. Sounds like Landis already is: "I'm just delighted with this movie...I've never been this happy with a picture at this part of the process. I'm usually really depressed at this point."
Here's the synopsis once more:
WILLIAM BURKE and WILLIAM HARE are scratching out a living in 1830s Edinburgh.  After yet another failed business venture, they return to Hare's lodging house to find that their tenant has suddenly died on rent day.  As the boys decide how to dispose of the body over a drink, they discover that a corpse can fetch a hefty price.  Edinburgh is the centre of the medical universe and the city's doctors are crying out for more cadavers for their educational lectures.  First they try the infamous DR. MONRO, but he's not interested, so they sell the corpse to DR. KNOX, his vain and ambitious rival who urges them to bring any more 'unfortunates' they may stumble upon. Entrepreneurial Hare is quick to realize they've hit on a great money making venture and despite the more sensitive Burke's misgivings, they embark on a series of plans to secure more bodies.  They arrange a series of deadly 'accidents' for the local unfortunates and to celebrate their success, they go out on the town to celebrate.  There, Burke meets GINNY, a beautiful and spirited aspiring actress. In a series of hilarious comic misadventures Burke and Hare begin to secure a steady stream of bodies and the cash starts rolling in.