Elizabeth Banks To Play Tinkerbell In Disney's Live Action Romantic Comedy 'Tink'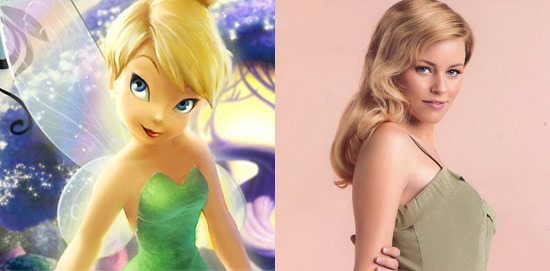 Tinkerbell has already appeared in film four times now—first in the silent 1924 version of Peter Pan; most memorably in the '50s animated classic; later in Spielberg's Hook, where she was played by Julia Roberts; and most recently in 2003's Peter Pan, as portrayed by the gorgeous (and frequently clothesless) Ludivine Sagnier. But never before has the character been the star of her own theatrically-released feature.
Until now.
Elizabeth Banks will star as Tinkerbell in Tink, a live-action romantic comedy from Disney which "plays with the mischievous nature of the Tinkerbell character". Learn more after the break.Variety broke the news, which says Banks helped develop the project under Brownstone Productions, which she runs with her hubbie Max Handelman. Producing the film will be McG, Adam Shankman and Jennifer Gibgot.
As a great admirer of Elizabeth Banks, I'm happy to see her setting up her own projects. She recently shared a producer credit on Surrogates, and has two upcoming projects, Forever 21 and Pitch Perfect, currently in the works. She's also a near dead ringer for Tinkerbell, which I suppose isn't hugely surprising given that all the part calls for is somebody that's skinny, cute and blond. Still, she has a peppy, spirited presence that should suit the role well.
Sadly though, not even my Banks love inspires any hope in me that this is a project worth getting excited about. McG's involvement is already a potential knock against the film, but the real kicker is Shankman and Gibgot in the producer's chair. Together, the duo has produced almost nothing but formulaic tripe, including such efforts as the Step Up films (yes, even Step Up 3-D), Cheaper by the Dozen 2, and the Miley Cyrus film The Last Song. If history has taught us anything here, it's that Adam Shankman's name is a harbinger of chintzy Hollywood crap, and it should be feared as such. There's always a chance that this could end up being a rare exception, joining the ranks of the fun and perfectly respectable Hairspray, but don't get your hopes up.