First Look: Comic Book Prequel To Let Me In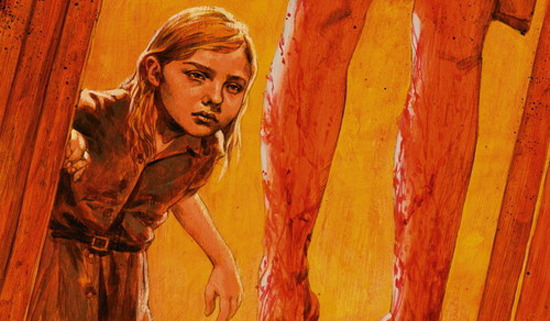 Given that Let Me In, the new version of Let the Right One In, already faces a hardcore fanbase prepared to doubt and dismiss anything that isn't Tomas Alfredsson's original movie, is it a good or bad idea to release a prequel comic book leading up to the film? In December, Dark Horse Comics will release Let Me In: Crossroads, written by Marc Andreyko and drawn by Patric Reynolds. We don't have any interior art at this point, but can present two covers by Sean Phillips.
i09 has the art and info on the series. Not much is available beyond that, and I'm not sure the endeavor is a terribly good idea. But it'll be an easy thing to pass over, and if the story turns out to be good, then it's a bonus for those who already know the story thanks to the original film and novel. I'm curious to see the interior art, because these cover renditions of Chloe Moretz kinda scare me.
Here's info on the four-issue series from Dark Horse Comics:
Being forced to spend eternity as a vampire-trapped in the mind and body of a child, with slaughter the only recourse for survival-is torture enough. But when Abby finds herself faced with a ruthless real-estate tycoon willing to do anything to get at the property she and her caretaker call home, far more monstrous torments await. In a small community torn apart by vicious men who are consumed by greed, wrath, and envy, she will learn which deadly sin is truly deadliest.
Dark Horse Comics and Exclusive's legendary Hammer Films team up to take you even deeper into a tragic world of sophisticated horror with Let Me In: Crossroads, a chilling prequel to the highly anticipated film Let Me In. Written by Marc Andreyko (Manhunter, Predators), with art by Patric Reynolds (Abe Sapien: The Haunted Boy, Serenity: Float Out) and covers by Sean Phillips (Sleeper, Criminal, Incognito).