Casting Notes: Amanda Seyfried In Andrew Niccol's Sci-Fi 'I'm.mortal'; Chris Pratt In 'Moneyball'; Haley Joel Osment In 'Sex Ed'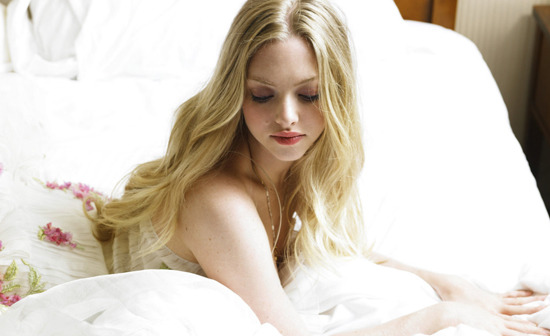 After his movie The Cross seemed to fall apart, writer/director Andrew Niccol diverted to a slightly more mainstream sci-fi approach: he'll direct the 'action love story' I'm.mortal, which now has Amanda Seyfried set up to star. The film is about a society in which aging stops at the age of 25, which is as good an excuse as any to cast a lot of attractive 20-somethings. But because of the conceit behind the film, that's actually forcing Niccol to find young actors who can play individuals who are a lot older than they look.
What's the conceit? Variety explains a bit of the plot that we haven't previously known: "In I'm.mortal, time has become the currency. Once you turn 25 and your aging gene turns off, you must buy and bank time. If you are rich enough, you can live forever. But if you run out of time, you are engineered to die automatically. When a rebel from the ghetto is falsely accused of murdering a wealthy man for his time, he is forced to go on the run with a beautiful, rich hostage (Seyfried). Together, this duo rages against the system, living minute to minute. They discover that love is more powerful than all the time in the world."
[Variety]
After the break, more Moneyball casting and the return of Haley Joel Osment.
We just heard that Kathryn Morris would appear in Moneyball, which shoots next week in LA. (Finally!) Now Chris Pratt from Parks and Recreation is joining the cast; he'll play Scott Hatteberg, who in the mid to late '90s was backup catcher for the Red Sox (behind Jason Varitek) before elbow surgery stalled his career. He was hired by Billy Beane (Brad Pitt) to play first base for the Oakland A's. [THR]
Finally, Haley Joel Osment, who has been away from screens for a couple of years, returns in the comedy Sex Ed, to be directed by commercial and short filmmaker Isaac Feder from a script by Billy Kennedy. THR says Osment will play "a college graduate who dreams of teaching high school Algebra but due to budget restraints, ends up teaching sexual education, despite being a virgin. He discovers an unlikely mentor in a blues bar, a ruthless enemy in the local PTA, and a gorgeous Polish girl for whom English is a distant second language."
How has no one ever made a comedy about a virgin teaching sex ed? That seems so obvious, now that the news is in front of us. (There is a Funny or Die sketch about the concept, and there must be a film I'm simply forgetting at this point.)