Warner Bros Acquires David Peace's Occupied City, Wants To Remake 'Oh God' Starring Betty White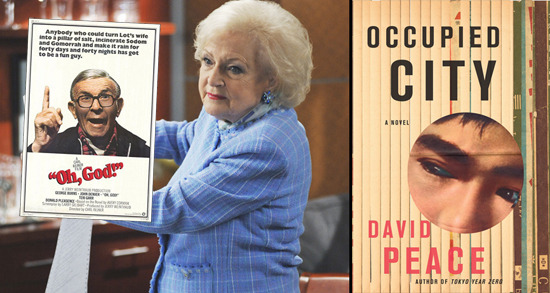 Given the heavy love movie studios have for remakes in the past few years, I'm surprised the George Burns comedy Oh, God! hasn't been grist for the mill. As it turns out, not for lack of trying. Deadline reports that producer Jerry Weintraub has been trying to remake the film in which God (George Burns) appears to a grocer (John Denver) and chooses him to bring His word to the modern world.
Weintraub's latest idea is to have Betty White play the George Burns role, with Paul Rudd playing the John Denver part. That's a pretty inspired idea, but it would have been more inspired a year ago so the film could be on screens now, just as White is riding a wave of popularity. This is just a pitch for now, so don't get too excited about Betty White playing God. But if fan interest could help get her on SNL, you never know...
In the meantime, more likely to actually happen is an adaptation of the novel Occupied City by David Peace.
Peace is the same writer whose novels became the Red Riding trilogy of films, and Peter Morgan adapted his novel The Damned Utd into The Damned United. Now THR says that WB has picked up the rights to Occupied City, a 'Japanese crime thriller' that follows " the shifting perspectives of people involved in the post-war case of Hirasawa Sadamichi, who was accused of poisoning and killing a dozen employees in a Tokyo bank, then robbing it, in 1948."
Sounds like a great story, and there's a potential film franchise here, as the novel is the first of a planned trilogy. But it's hard to predict how much money WB might want to sink into an adult-oriented period thriller for which they'd have to recreate late '40s Tokyo. I'd love to see it, without a doubt (after Inception, expect to hear Ken Watanabe attached to this one) but after thinking about it more, maybe the Oh, God! remake is actually more likely to make it.