Edward Norton's Agent Says Marvel's Statement About Hulk Recasting Is "Misleading, Inappropriate"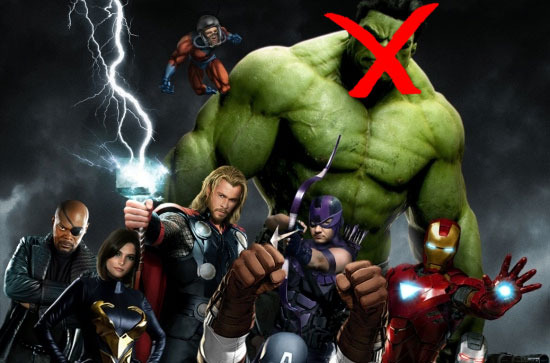 Months of speculation about Edward Norton's possible role in The Avengers came to an abrupt end on Friday when HitFix reported that Marvel had decided to recast Bruce Banner, aka the Incredible Hulk. Edward Norton is out; a new actor to be announced will step in.
That wasn't a huge surprise, but the wording of Marvel's official statement on the matter was a bit unusual. Specifically, the studio said, "Our decision [to recast the role] is definitely not one based on monetary factors, but instead rooted in the need for an actor who embodies the creativity and collaborative spirit of our other talented cast members."
That's a shockingly pointed comment in these days of company decisions that are carefully worded to be as safe as possible. Edward Norton's agent took umbrage at Marvel's wording and has released a statement in response. What's interesting isn't so much the tone of the response, but the detail it contains about how close Norton came to appearing in The Avengers.
HitFix also has this rebuttal. Brian Swardstrom of WME gets right to the point when he says, "This offensive statement from Kevin Feige at Marvel is a purposefully misleading, inappropriate attempt to paint our client in a negative light." OK, that's the expected response, but the argument there is really between Kevin Feige and Norton's camp. I'm staying out of that, but here's the interesting detail from Swardstrom:
Here are the facts:  two months ago, Kevin called me and said he wanted Edward to reprise the role of Bruce Banner in The Avengers.  He told me it would be his fantasy to bring Edward on stage with the rest of the cast at ComiCon and make it the event of the convention.  When I said that Edward was definitely open to this idea, Kevin was very excited and we agreed that Edward should meet with Joss Whedon to discuss the project.  Edward and Joss had a very good meeting (confirmed by Feige to me) at which Edward said he was enthusiastic at the prospect of being a part of the ensemble cast.  Marvel subsequently made him a financial offer to be in the film and both sides started negotiating in good faith.  This past Wednesday, after several weeks of civil, uncontentious discussions, but before we had come to terms on a deal, a representative from Marvel called to say they had decided to go in another direction with the part.  This seemed to us to be a financial decision but, whatever the case, it is completely their prerogative, and we accepted their decision with no hard feelings.
We'd heard several times that Norton was possibly interesting in doing the film, but this is the most detail we've had on how the negotiations actually went. This is only one side, and if this really gets ugly no doubt we'll hear more from both Marvel and Norton.
In the meantime, this is also the closest we've had to an official confirmation that Joss Whedon will direct The Avengers. Marvel hasn't released an actual statement to that effect, though the company is often slow to officially confirm information that has leaked out though non-company channels.