Rumors: Superman Auditions Underway With Jonathan Nolan Directing? Elena Satine For Mary Jane Watson In Spider-Man?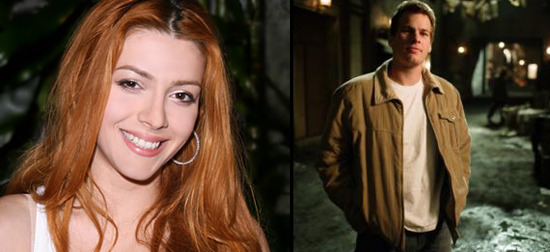 Seems like there have been far more superhero movie rumors than normal in the run-up to this year's Comic Con. Hopefully many of these will be addressed in some manner within the next couple weeks, but in the meantime take anything boldly marked 'rumor' as merely a way to kickstart conversation. So, after the break, you can start to talk about the idea of Jonathan Nolan directing Superman and Elena Satine playing Mary Jane Watson in Spider-Man.
The big one today, which comes from GeekTyrant, is that Jonathan Nolan may direct Superman for WB, and that actors including Chuck's Zachary Levi have auditioned. Specifically, the site says:
According to our sources that reside on the WB studio lot that have informed us that Christopher Nolan's brother Jonathan is currently the unannounced director of the Superman reboot film. Word on the lot is that he is attached to direct the film and has been on the studio lot a lot these days working on pre-development stuff.
This isn't the first time the notion has cropped up that Jonathan Nolan might or should direct Superman — after years of being a core part of the story team behind his brother Christopher Nolan's films, there's a big fanbase that would be interested in seeing the younger Nolan direct. And with the elder overseeing the new Superman film, this seems to some like the ideal opportunity.
I think it would be much more appropriate and likely for him to start with smaller films, as Christopher did, but that doesn't stop the rumor mill turning. Discuss below.
Meanwhile, we'll highlight a persistent rumor that I mentioned the other day while talking about the very tenuous, unconfirmed rumor that Anton Yelchin was a lead choice to play Harry Osborn in Spider-Man.
In that piece, some of you may have missed the mention that Elena Satine, a relatively unknown actress, has auditioned and is campaigning for the role of Mary Jane Watson in Spider-Man. (per The Playlist.) This info is based in part on tweets from her now-protected account, and doesn't do much to indicate how Marvel is looking at the role. But looking at images of Satine it's easy to see that she'd fit the part.