The Batmobile In Arthur?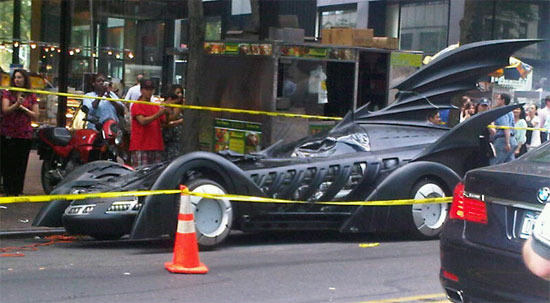 You may have thought you saw the last of Batman Forever's rendition of the Batmobile (because, honestly, why wouldn't you have?), but it looks as though it will have one last hurrah in Warner Bros. upcoming Arthur remake, which began shooting today in downtown Manhattan.
For those who don't recall, the original Arthur came out in 1981, and starred Dudley Moore as a booze-happy playboy who's the heir to a vast fortune—one which he's at risk of losing when he falls for a woman his family doesn't like. Russell Brand (who played the lovable self-involved British rock star Aldous Snow in Forgetting Sarah Marshall and Get Him to the Greek) is taking on the Moore role for the remake, and Greta Gerwig will play his love interest. Also starring in the film is Jennifer Garner, Helen Mirren, and Nick Nolte.
Check the rest of the photos, as well as theories for the Batmobile's appearance, after the break.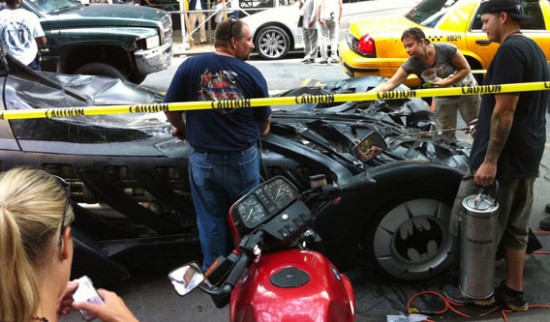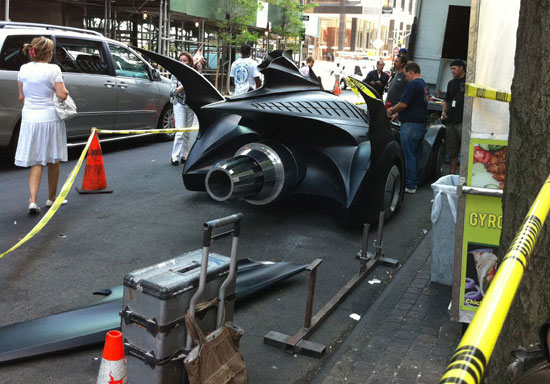 Credit goes to Coming Soon and Cinematical for unveiling the images. You can head over to either of those sites to find even more pictures (including one that provides confirmation that these are indeed from the Arthur shoot).
If I were to venture a guess as to what the Batmobile is doing in the film, I'd say it seems likely that it's part of an elaborate gag highlighting Brand's character's ostentatious lifestyle, with him purchasing the vehicle simply because he has the means and money to do so. The pictures also show some extensive damage on the car (such as the massive fin on the rear being broken off), suggesting he may drunkenly wreck it at some point.
Whatever the explanation, this at least offers a glimpse into what we can expect from the film, which has obviously been modernized to better reflect the time period. The original Arthur wasn't exactly a pop culture-heavy affair, but it was steeped in '80s style, so it's fitting that the remake would play off more recent developments for added comic effect. In case you haven't seen the original, I've included the trailer below, so you can judge for yourself. (It certainly isn't too hard to imagine Russell Brand slipping into the lead role though, is it?)