"Weird Al" Yankovic May Deliver Another Feature Film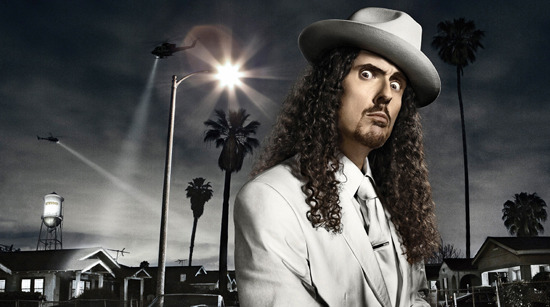 There are quite a few fans out there to support UHF, the oddball movie from 1989 written by and starring "Weird Al" Yankovic. The singer has been working on a film for Cartoon Network, but recently found that the network abruptly reversed plans to create feature-length live-action content for TV. (Cartoon Network...no live-action...go figure. Though CN is still doing short live-action stuff.) But Yankovic says he's not giving up on the idea and is pitching it around as a theatrical feature.
In a blog post (via MovieWeb) Yankovic says,
As I had previously reported, after years of negotiation, I was able to sign a major production deal with Cartoon Network to provide content for them.  They were primarily interested in live action features, so I pitched them on a movie idea.  They loved it, and gave me the go-ahead to start working on the screenplay.  I worked closely with them for several months, and after submitting my 4th draft, just when I was just about to get the official green light... Cartoon Network let me know that they were no longer in the feature film business.
...it's not entirely bad news – the script went into turnaround, which means I'm free to sell it somewhere else.  (Come to think of it, that was pretty much the exact thing that happened when I was trying to get UHF made.)  So maybe it'll get produced at some point, maybe it won't... all I know is, I'll have a lot more free time this fall.
We don't have a title or a subject, and not having seen UHF in a very long time I can't even begin to make a guess about whether this might be a very good thing. But hell, it's great that Yankovic has kept his career going, even thriving, through decades of changes in the pop music and culture he lampoons. So I hope this works out for him, regardless of any interest in the actual movie.