Phil Lord Offers Details About Lego Movie: "Like If Michael Bay Kidnapped Henry Selick"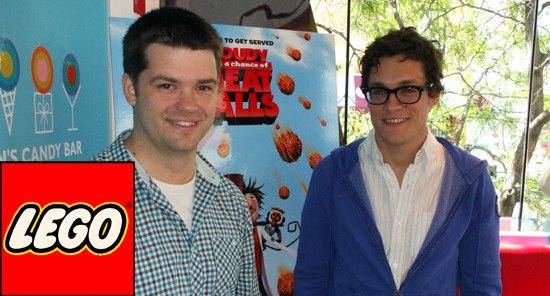 We might eventually see a movie based on the Lego brand of toy building blocks, and while the idea sounds absurd on the face of it, the project got a bit more interesting when Cloudy With a Chance of Meatballs directors Phil Lord and Chris Miller were hired. Now Lord offers a few details about their plans for the film, and also talks about how he and Miller plan to film the big-screen version of 21 Jump Street.
Lord offered up some info to Collider:
I don't know how we're exactly going to execute it, but I would say the vast majority of the film takes place in an immersive all-Lego environment.  So it's going to star mini-figs and we've created these really cool characters and a really nice character story between these mini-figs.  And it's going to take place in a universe that's made entirely out of Lego to the point where if there's water or clouds or like a big explosion, that will be made out of animated Legos.  And our goal was to make it look like a super charged stop-motion.  Something like if Michael Bay kidnapped Henry Selick to make a movie for him.
To expand a bit on the 'Michael Bay / Henry Selick' quote, Lord also talks about existing fan films made by animating Lego bricks, and how that aesthetic might play into the studio film:
They feel like they're homemade and you can feel the creativity like permeating throughout them and it reminds me of what's so special about animation when it's working great it feels handmade.  And regardless of how much CG is in the movie, I think that's the feel that we're trying to go for.
The 40-page treatment that he and Miller presented to Warner Bros. and Lego had ideas about including all the various worlds that end up in Lego toys, though probably without all the movie-related tie ins that have become Lego's bread and butter in the past decade.
Given that this is a WB film, might there be some appropriate references to Batman or other WB properties? Lord says "there is a way [to incorporate sets based on Harry Potter, Star Wars and other movies].  I hope that way can happen.  It remains to be seen how much of that we can actually do.  But it's certainly a possibility."
And what about 21 Jump Street, which Lord and Miller will make before Lego? Lord briefly describes the TV update as "a big live-action R-rated crazy action movie," which is an interesting start, especially after Cloudy. But if he and Miller can bring the same sense of great character to the film that they did with Cloudy, it won't matter what the film's rating is.