Universal And Best Buy Want You To Use Your Cell Phone During Despicable Me!?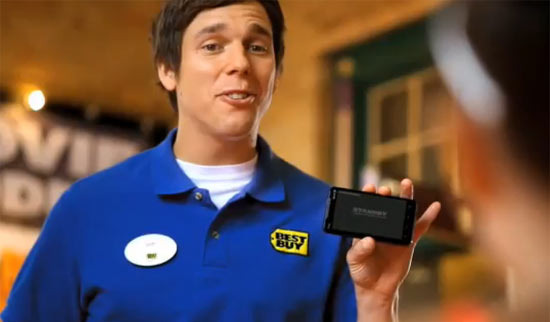 Hollywood is in a dark place right now. The world is changing around it, and movie studios are struggling to adapt. We've already seen how studios have been trying to incorporate current technology-based trends and developments into everyday practice—whether it be through harnessing the power of social networking sites like Twitter and Facebook, or combating piracy with digital downloads—but so far none of these attempts have been met with much success or enthusiasm.
I doubt this latest experiment is going to change that.
In partnership with Universal, Best Buy has recently unveiled a movie app that encourages using your cell phone while watching Despicable Me. Find out more after the break.
Before even learning what the purpose of the downloadable movie app was, my response to this announcement was one of seething contempt. Dealing with self-involved assholes in theaters casually whipping out their cell phones (read: glowing eye-sores) is bad enough already, but now we have to contend with studios actually encouraging the behavior?
Truth is, it's not quite as horrifying as you might assume, even if it does make me nervous of things to come. The app only takes effect during the film's end credits, where it will provide a text translation of Despicable Me's minion characters' dialogue.
Strangely though, the advert for the download tells you to turn it on as soon as you get into the theater.
Best Buy claims that the app "automatically dims the mobile screen, silences the ringer and discourages texting", so at least they're paying mind to other moviegoers. Knowing society though, many people will forget to set their phones to Best Buy's Movie Mode until after the movie starts, meaning there's a good chance you'll see cell lights flashing on anyway. Also, "discouraging texting"? How can an app "discourage" texting? Does the program scold you? Express disappointment in your actions? Really, Best Buy, I'd like to know.
The implications of this practice aside, the app does provide at least one useful service, although it's one that won't be relevant until several months from now, when the film hits DVD and Blu-ray. Instead of merely translating the minions' dialogue during the end credits, it will allow you to decipher what they're saying throughout the whole film. In the comfort of your own home, where there are no other theater patrons to bother, this actually sounds pretty nifty. But for now, I don't see anything good coming of this.
If you're so inclined, you can download the app here. Check out the full press release below.
Best Buy Enhances Theatrical and Home Movie Viewing Experience with a First-of-Its-Kind Mobile Application
Best Buy Movie Mode Comes to Life this Summer with Universal Pictures and Illumination Entertainment's Must-See 3-D CGI Feature Despicable Me
MINNEAPOLIS, June 14, 2010 – Best Buy Co., Inc. (NYSE:BBY) today unveiled Best Buy Movie Mode, an exclusive first-of-its-kind mobile application designed to transform the way moviegoers engage and interact with the films they enjoy. Available as a free download, Best Buy Movie Mode comes to life via "The Minionator," created as part of an exclusive collaboration with Universal Pictures and tied to the July 9 release of its must-see RealD 3-D CGI feature "Despicable Me produced by Chris Meledandri."
"The Minionator" is Movie Mode's first film enhancing experience and offers fans a deeper connection to "Despicable Me" by translating for audiences what the film's mischievous little yellow characters, the Minions, are saying. The app acts as a translator during the 3-D theatrical end credits for the special language of the Minions. The app will also translate the Minion language throughout the entire movie on Best Buy's exclusive "Despicable Me" DVD released later this year.
Best Buy Movie Mode uses new patent-pending technology to provide enhanced content to movie lovers during both the theatrical and DVD viewing experience. Additionally, it serves as a locator for both theaters showing "Despicable Me" in 3-D and Best Buy stores while also providing an interactive interface to unlock exclusive free digital content, courtesy of Best Buy. A phone in Best Buy Movie Mode automatically dims the mobile screen, silences the ringer and discourages texting to ensure audiences have a positive movie-going experience. Beyond The Minionator, Movie Mode will offer users new movie enhancing experiences and exclusive content for future theatrical and DVD releases.
"Best Buy Movie Mode changes the way audiences connect with great entertainment, both inside a theater and at home," said Chris Homeister, senior vice president and general manager of the home entertainment group at Best Buy. "The innovative technology, unique to Best Buy, provides us with an opportunity to evolve with customers into the growing digitally connected world. We are thrilled our first partnership is with Universal and 'Despicable Me' producer Chris Meledandri. The collaboration throughout this process has been a delight."
"Throughout the planning for this film, we have been impressed with Best Buy's vision and its desire to create an innovative experience for moviegoers," said Stephanie Sperber, president Universal Partnerships & Licensing. "We can't wait for fans to finally experience 'The Minionator.'"
Added James Meredith, vice president of marketing for Cinemark Theatres, "Movie theaters and cell phones have never been friends—until now. Because Best Buy Movie Mode disables the ringer, discourages texting and dims the phone screen, all moviegoers can now enjoy a delightful theater experience free from cell phone distractions. Joining forces with Universal to bring 'The Minionator' to life, Best Buy is giving movie lovers a truly compelling reason to experience 'Despicable Me' in RealD 3-D on the big screen"
Leading up to the film's debut, Best Buy's Reward Zone Silver members will have an opportunity to attend one of several exclusive pre-screenings of "Despicable Me" in 20 markets across the country. RZS members can also visit www.myrewardzone.comto enter for a chance to win tickets to the film's world premiere in Los Angeles on June 27.
Best Buy Movie Mode is expected to be available on most mobile platforms this week including iPhone, Android, Blackberry and Windows Mobile. To learn more and to download The Minionator app, visit www.BestBuyMovieMode.comor text MINION to 332211.