Offers: Christian Bale For The Last Photograph; Bradley Cooper For TMI; Jim Carrey For Burt Wonderstone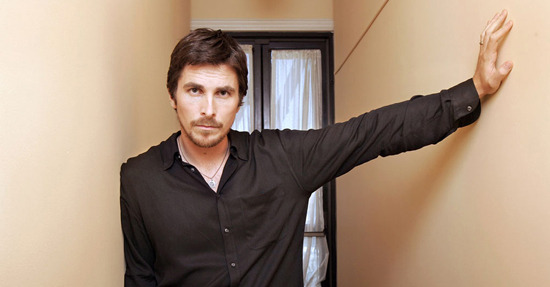 Ah, it's the notorious 'an offer is out to...' story, which has of late become more of a staple. These are both potentially interesting projects, but keep in mind that at this point we're just documenting offers that have been given to actors to appear in these projects — the films aren't greenlit, and there's a 50/50 chance, at least, that these actors won't take these roles. That said, chew on the ideas of  Christian Bale in a film based on a Zack Snyder story, Bradley Cooper in another R-rated comedy and Jim Carrey in a film about a magician.
Perhaps the most tenuous of these stories is the biggest, which puts Christian Bale in some proximity to The Last Photograph, an original story from 300 director Zack Snyder. Kurt Johnstad wrote the script (he also wrote 300) which is reportedly a drama that "revolves around a photograph that becomes the catalyst for a journey two men undertake through war-torn Afghanistan."
This one has been around for a minute — interesting that it's hitting the news again now. Russian director Sergey Bodrov was attached, but there's a report that The Girl With the Dragon Tattoo director Niels Arden Oplev may now be the man. Which is a good way to go if you want a competent, middle of the road take that doesn't dig too deep.
But see, this is where these stories get wonky: according to Zack Snyder's reps, Bale has read the script but hasn't taken a role or even negotiated for one. So while he's got the material, and an offer may be on the table, for now it doesn't mean much. Keep than in mind as you read on.
Offer #2 is to Bradley Cooper for TMI, a pitch that has been kicking around for a while about " two "just friends" types who finally realize they're made for each other after a drug-induced evening of debauchery." A condensed When Harry Met Sally for the '10s? Yike.
Anna Faris is attached to the female lead, and Ryan Reynolds was attached to play the opposite part, which is now out to Cooper. The latter doesn't have much set up after The Hangover 2, and his slate isn't looking as strong now as we thought it might become after The Hangover. Is another R-rated romcom like TMI going to seem like a good move?
The last offer is one out to Jim Carrey for a role in Burt Wonderstone, written by John Francis Daley of Freaks & Geeks and his Horrible Bosses co-writer Jonathan Goldstein. The film would be about "a magician who loses everything after his ego and his refusal to do new tricks leads his partner to leave him and his show is canceled. Burt's childhood idol eventually reminds Burt what magic is all about, and Burt has to convince his partner to return so they can pull off that one magic trick that has eluded him."
So: potentially funny, heartwarming and effects filled? Easy to see the appeal from New Line's perspective.
Carrey has reportedly been offered the lead role, and there's rumor that Sacha Baron Cohen is interested in the same part. Carrey's in a strange place of late; I'd hoped that I Love You Phillip Morris might hit and help him out. But that's stalled in the US, and Carrey seems to be in a grey zone.