Thomas Lennon And Danny Trejo In Harold & Kumar 3; Final Title Seems To Be Undecided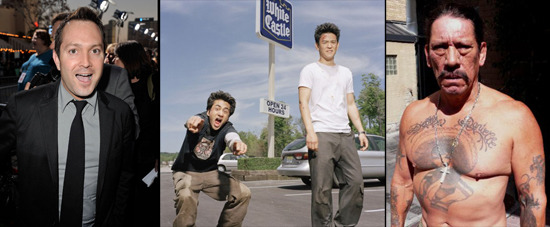 Thanks be to the almighty press release to inform us of new casting info. Warner Bros. issued a release for the third Harold & Kumar film, which is shooting right now. (Little late on the draw for a 'begins production' release, but why quibble over details?)
The first useful tidbit: nowhere do we see the title A Very Harold & Kumar Christmas. Instead, the film is referred to as merely the third Harold & Kumar comedy. Right now I wouldn't be surprised if A Very Harold & Kumar Christmas ends up being the final title, but it's odd to see it omitted in the press release.
Read the full release after the break, which comes complete with info about casting new folks such as Thomas Lennon and Danny Trejo.
The release doesn't have any specifics about who Thomas Lennon and Danny Trejo will be playing, but I can very easily see how both would fit right into the world created in the first two films in the series. Trejo especially. Gotta say, if he's not playing Santa, or a department store Santa, or some variation therof, I might be a little disappointed.
Off topic: If you're hungry to see more new work from Thomas Lennon, check out the review he and Ben Garant do of the porn parody of Reno 911. (That one is, shockingly, not safe for work.) And hopefully we'll see Lennon at Comic Con, where he and Garant often take part in the panel for comic series The Goon. Last year's was one of my fave SDCC panels, period ; hoping for more this time.
Back on topic, here's the full, tremendously exciting press release:
Mandate Pictures And New Line Begin Production On The Third "Harold & Kumar" Comedy(July 07, 2010 – Burbank, CA) – The ensemble cast has been set for Mandate Pictures' and New Line Cinema's third installment of the "Harold & Kumar" film franchise, which began with the 2004 cult hit "Harold & Kumar Go to White Castle." John Cho ("Star Trek," TV's "Flash Forward") and Kal Penn ("Superman Returns," TV's "House") reprise their title roles in the holiday-themed comedy, which recently began principal photography on location in Michigan.The first of the "Harold & Kumar" comedies to be shot in 3-D, the film is being directed by Todd Strauss-Schulson, marking his major feature film directorial debut. Academy Award®-winning producer Greg Shapiro ("The Hurt Locker") and Mandate president Nathan Kahane return as producers. The screenplay is by Jon Hurwitz and Hayden Schlossberg, who wrote the previous two movies and directed the second, "Harold and Kumar Escape from Guatanamo Bay." They are also serving as co-producers, together with Nicole Brown, who is overseeing the project on behalf of Mandate.It would not be a "Harold & Kumar" film without Neil Patrick Harris, who reunites with Cho and Penn in the cast. Returning "Harold & Kumar" cast members also include Paula Garcés (TV's "The Shield") as Maria; Danneel Harris (TV's "One Tree Hill") as Vanessa; Bobby Lee ("Pineapple Express") as Kenneth Park; and Eddie Kaye Thomas ("American Pie," HBO's "How to Make It in America") as Rosenberg.Joining the "Harold & Kumar" ensemble are Tom Lennon ("17 Again," TV's "Reno 911") and Danny Trejo ("Grindhouse"). Rounding out the new film cast are Amir Blumenfeld (TV's "Pranked," CollegeHumor.com), David Burtka (TV's "How I Met Your Mother"), Fred Melamed ("A Serious Man"), Patton Oswalt ("The Informant!") and Richard Riehle ("Halloween II").Harold and Kumar were introduced in the first film of the series, "Harold and Kumar Go to White Castle," which follows two post-college friends on their search for the best pot and snacks that suburban New Jersey has to offer. The second film, "Harold and Kumar Escape from Guantanamo Bay," found them being mistaken for terrorists and having to clear their names—with the help of old friend Neil Patrick Harris.The new "Harold & Kumar" comedy picks up six years after the duo's last adventure. After years of growing apart, Harold Lee (John Cho) and Kumar Patel (Kal Penn) have replaced each other with new best friends and are preparing for their respective Christmas celebrations. But when a mysterious package arrives at Kumar's door, his attempt to deliver it to Harold's house ends with him inadvertently burning down Harold's father-in-law's prize Christmas tree. With his in-laws out of the house for less than a day, Harold decides to cover his tracks rather than come clean, and reluctantly embarks on another ill-advised but hilarious journey with Kumar, taking them through New York City on Christmas Eve in search of the perfect Christmas tree.Collaborating with Todd Strauss-Schulson behind the scenes are: director of photography Michael Barrett ("You Don't Mess with the Zohan," "Bedtime Stories"); production designer Rusty Smith (the "Austin Powers" movies, "Elf"), editor Eric Kissack ("Brüno," "Role Models"), and costume designer Mary Claire Hannan ("Into the Wild").The film is a production of Mandate Pictures and New Line Cinema and will be distributed worldwide by Warner Bros. Pictures, a Warner Bros. Entertainment Company.