New Photo: Steve Carell And Jemaine Clement In Dinner For Schmucks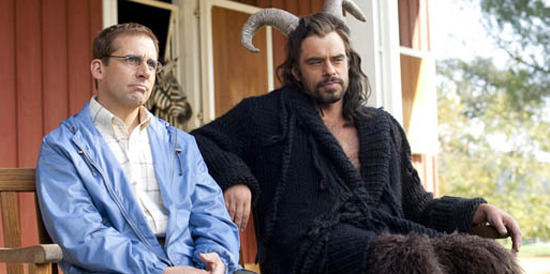 We may receive a commission on purchases made from links.
Nope, that's not a still from an unlikely adaptation of Haruki Murakami's novel A Wild Sheep Chase, though I might actually love to see Steve Carell play the nameless protagonist of that story and Jemaine Clement the very odd Sheep Man he encounters at a remote homestead.
No, that's a new still from Dinner for Schmucks, and I'm mainly pointing it out because, the more I think about it, I actually do really like the idea of a Carell / Clement pairing based on Murakami. But I suppose I'll take Dinner for Schmucks instead. We briefly saw Clement in this getup in the film's second trailer, which nicely summarized the conceit of a bunch of rich jerks who invite 'idiots' to dinner to make fun of them, and the ambitious young exec (Paul Rudd) who is caught up in the scenario.
This photo is part of a collection of new images over at MTV, a couple of which bolster the image of the film as a collection of insane characters. (It's also a remake of a French comedy, Le Diner de Cons, but shhh. Don't tell anyone.) See the full image after the break.