First Look: Milla Jovovich's Wardrobe For The Three Musketeers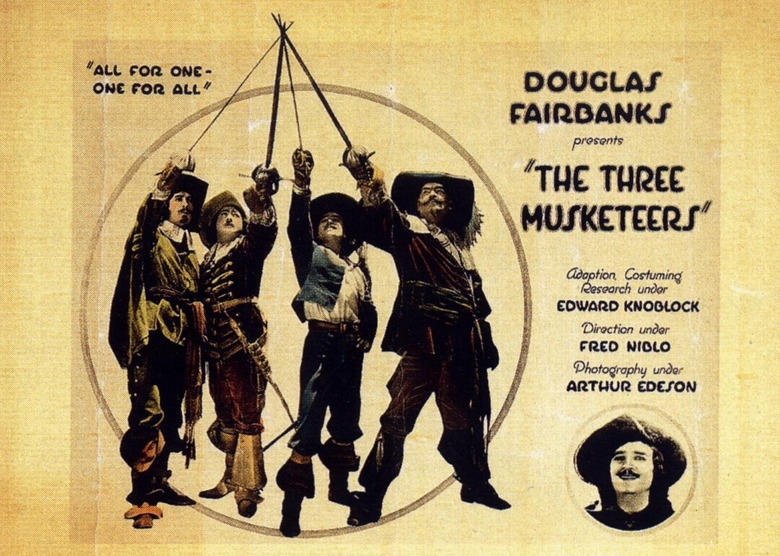 As you know, Milla Jovovich will be playing M'lady De Winter in her husband Paul W.S. Anderson's 3D adaptation of The Three Musketeers. The actress posted some photos on twitter of some of the dresses she will wear in the film, taken at the costume test. Check them out now, after the jump.
"A 17th century bond girl!How amazing is this 1st test 4 the costume 4 3M!Its jst canvas w bits of fabric pinned 2 it!"
"Lol! How cool! This fitting is unbelievable and to b able 2 do crazy fight sequences in these dresses?! SICK!!!"
"Here's a wider shot of Milady de Winter!"
"Milady de Winter costume test 4 3M!!!"
"Quite a collar on that chick! Lol! Its like a kick ass "midsummer nights dream"!"
"And full length..."
"Here's the canvas sample 4 the dress! Incredible right?! That's w out any fabric, ruffles or hairpieces. So fun!"
The previously announced cast includes Christoph Waltz as Cardinal Richelieu; Logan Lerman as D'Artagnan; Matthew MacFadyen as Athos; Ray Stevenson as Porthos; Luke Evans as Aramis; ; and Mads Mikkelsen as Rochefort, Juno Temple as Anne of Austria, the Queen Consort of France, Orlando Bloom as the Duke of Buckingham and British comedian James Corden as the servant Planchet.
Previously:
Anderson co-wrote the screenplay with Andrew Davies (Bridget Jones's Diary, The Tailor of Panama), and intends for the film to have a contemporary feel. Here is a quote from the director:
"We are definitely modernizing 'The Three Musketeers' without compromising the fun of shooting a period piece," said Anderson, who hopes to shoot in France and Germany. "But in our film, corsets and feathered hats don't take center stage. Our version is rich in eye-popping action, romance and adventure."
So basically, Anderson wants to make a non-period period film, which will really just be a dumbed down B-action 3d spectacle? I wasn't too interested in seeing The Three Musketeers back on the big screen again anyways, certainly not with Anderson at the helm, and definitely not based on his pitch. Is there any chance this movie will be any good? I'd recommend that anyone interested should probably just read the book instead (which is available for free thanks to Google).
Paul WS Anderson (not to be confused with Paul Thomas Anderson) has made a career directing bad video game adaptations (Mortal Kombat, Resident Evil trilogy) before moving on to equally bad Sci-Fi remakes/spin-offs (Alien vs. Predator, Death Race). His best film, the 1997 sci-fi film Event Horizon, earned critic quotes like "a retarded Goth version of 2001" and "Anderson shoots things to look cool, but he has no grasp on how to modulate the visuals to carry the audience into the deepening nightmare of the plot."
The film has been picked up by Summit, which has set a summer 2011 release date. That has pulled the shooting start date forward from September to August.
The competing Warner Bros film directed by Doug Liman is also going into production this fall. Anderson's movie will roll first, and we haven't yet heard about any cast for Liman's version. Given the speed with which Anderson's movie is coming together, I wouldn't be terribly surprised if WB makes some serious changes to Liman's film. Anderson shoots and cuts fast enough that there's little chance WB can beat him to release.