First Look: Zach Galifianakis In It's Kind Of A Funny Story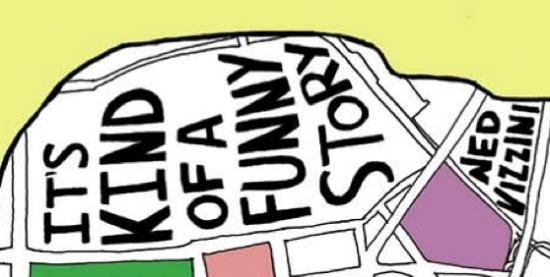 The first photo of Zach Galifianakis (The Hangover) and Keir Gilchrist (United States of Tara) in Half Nelson writer/directors Anna Boden & Ryan Fleck's new film It's Kind of a Funny Story has been sent to us by /Film reader Matt S.
The comedy-drama has been adapted from Ned Vizzini's 2006 novel of the same name; "16-year-old Craig (Gilchrist), stressed out from the demands of being a teenager, checks himself into a mental health clinic. There he learns that the youth ward is closed – and finds himself stuck in the adult ward. One of the patients, Bobby (Galifianakis), soon becomes both Craig's mentor and protégé. Craig is also quickly drawn to another 16-year-old, Noelle (Emma Roberts). With a minimum five days' stay imposed on him, Craig is sustained by friendships on both the inside and the outside as he learns more about life, love, and the pressures of growing up. Academy Award nominee Viola Davis (Doubt) plays Dr. Minerva, the adult ward's staff psychiatrist; Zoe Kravitz (The Brave One) portrays Nia, Craig's longtime crush; Aasif Mandvi (The Proposal) is cast as Dr. Mahmoud, a hospital psychiatrist; and Lauren Graham (Parenthood) and Jim Gaffigan (of Focus' Away We Go) play Craig's parents, Lynn and George.
Check out the photo, after the jump.
We've heard some early buzz from test screenings, including the following notes which was posted on IMDB forums:
I saw a pre-screening last night in suburb of Washington, DC. If you like funny, touching, but not sappy, its definitely worth seeing when its released. The Under Pressure music video might be the best scene in the film. Obviously, not as powerful as One Flew Over, but still a very good movie.  The producers have a dilemma, since its not a mass market film, but seems bigger than an art house flick.
I saw this movie last night as well. I agree that the producers have a dilemma because it's not mass market, but it's not an art house flick. It reminded me of 500 Days of Summer or Eternal Sunshine of the Spotless Mind a little bit. I personally loved the movie. The acting was fantastic. Keir Gilchrist was fantastic. Zach Galifinakis was wonderful... he was funny but touching when he needed to be. I really like Emma Roberts in her role. I thought all of the supporting cast was wonderful. The story line moved at a great pace and it was hilarious. The music video was a fantastic scene, but I think my favorite scene was the basketball scene. It was the perfect mix between funny/serious.
I would recommend this movie to anyone.
The movie is the third feature from the filmmaking team of Boden and Fleck, following Half Nelson (2006), for which lead actor Ryan Gosling received an Academy Award nomination, and Sugar.
I expect to see a trailer released sometime in the coming weeks.
It's Kind of a Funny Story is scheduled to be released by Focus Features on September 24th 2010.