Meryl Streep To Play Margaret Thatcher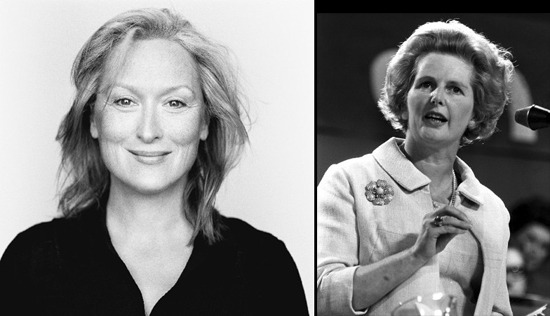 Somehow this hasn't already happened, and it probably goes without saying that the idea is fairly perfect: Meryl Streep is in talks to play Margaret Thatcher, in a film from her Mamma Mia! director Phyllida Lloyd.
THR says that Thatcher would cast Streep as the British Prime Minister in a story set in 1982 as the political crisis between England and Argentina over the Falkland Islands escalated into war. Jim Broadbent is in talks to play Thatcher's husband.
The story is by producer Damien Jones and screenwriter Brian Fillis, but there's no word on what their specific sources are.
Thatcher was in office as Prime Minister from May 1979 to November 1990 and consequently was the political face of England throughout the '80s just as Ronald Reagan was for the United States through most of the decade. More conservative than Reagan, she faced an intense political crucible in her early years as PM thanks to rampant inflation and unemployment. Privatization was a core value of her economic policy and her nationalism and moral conservatism drew as much criticism (perhaps more) as they did support. Before the Falkands War her approval fell to 25%, but a swift and aggressive resolution to the conflict saw that rating more than double within a span of months.
Taking all that together, Margaret Thatcher is a very easy figure to satirize, or from which to create a caricature. But she could be quite difficult to portray evenly and honestly. Should be a challenge for Streep, who already looks enough like the leader that excessive makeup shouldn't be necessary. So she'll just be able to act the part, rather than working through latex. And Streep is just a few years older now than Thatcher was when this story takes place.