Judd Apatow Developing Pee-Wee Herman Film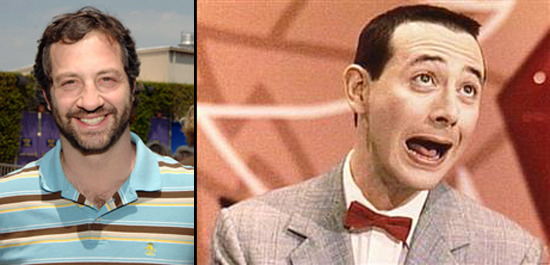 Since Paul Reubens as Pee-wee Herman started to work his way back to the spotlight, he's been talking about making two movies. One would be for adults, and one for kids. And now there's word that one of these two films is being developed for Universal by Judd Apatow, with Reubens and Paul Rust writing. The question is: which film is it? (I'm assuming this won't be called The 50-Year Old Virgin.)
Variety says that Apatow is working with Universal and Reubens to create "a road pic built around a gigantic adventure." Apatow is only producing at this point, not directing.
That sounds like it is probably the Pee-Wee's Playhouse movie, of which Reubens has previously said
It's not really the real world, it's Puppetland...On Pee Wee's Playhouse, on the television series, we never left the playhouse, we were always inside the playhouse. The movie is all out of the playhouse. There are two scenes in the playhouse, but the rest is out of the playhouse.
Late last year he said that film was scripted and ready to shoot. So, now that he's got a project lodged at Universal with Apatow overseeing, is Reubens working from that idea and script, or is this something different? Seems more likely that he'd be doing a new pass on the Playhouse script with Rust, but the trade report doesn't offer enough details to know for sure.We do know that the project came together after Apatow saw the live Pee-wee stage show that recently played LA.
The report does, however, have a nice selection of laudatory quotes from Reubens and Apatow.
Reubens on Apatow:
There is no one like Judd in our business — he loves comedy with emotion and heart, and he sees what we do as art.
and vice versa:
Let's face it, the world needs more Pee-wee Herman...I am so excited to be working with Paul Reubens — who is an extraordinary and groundbreaking actor and writer.
Update: At CHUD, a reader posted a comment saying that while appearing at the LA Film Festival last weekend, Reubens talked about his Pee-wee movie scripts.
He also said that he had the two well-known, unproduced Pee Wee movies (the Puppetland/Playhouse feature and "the dark Pee Wee movie", as Reubens said he was told NOT to refer to it) ready to go, but that this movie is a wholly separate third idea that he and Paul had just started to develop.
So take that for what it's worth — this might be something totally different from the long-discussed Playhouse film.