VOTD: Reservoir Dogs - Homage Or Stealing?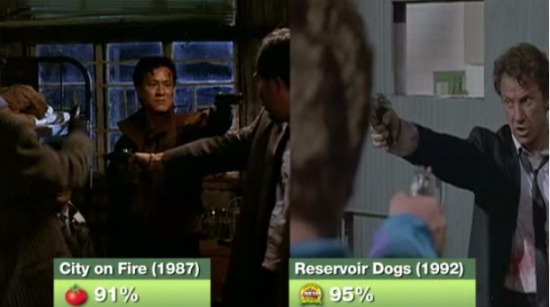 Current TV's Rotten Tomatoes internet show takes a look at Quentin Tarantino's Reservoir Dogs and the similarities to the Chung Yun-Fat's 1987 Honk Kong action film City On Fire. This, of course, isn't a new observation. To fill in the history, here is wikipedia:
Reservoir Dogs was, according to Tarantino, his version of Stanley Kubrick's The Killing. Tarantino himself said that he "[...] didn't go out of my way to do a rip-off of The Killing, but I did think of it as my Killing, my take on that kind of heist movie". The film's plot was suggested by the 1952 movie Kansas City Confidential. Reservoir Dogs has also been accused of plagiarism, specifically Ringo Lam's 1987 film City on Fire, and has even been accused of lifting entire scenes from this film. Additionally, Joseph H. Lewis's The Big Combo inspired the scene where a cop is tortured in a chair. Tarantino has denied that he plagiarized with Reservoir Dogs instead claiming that he does homages. Also the main characters being named after colors (Mr. Pink, White, Brown, etc.) was first seen in the 1974 film The Taking of Pelham One Two Three.
Watch the video embedded after the jump, and vote in the comments below: Reservoir Dogs – Homage or Stealing?