Damon Lindelof Starts Writing Star Trek Sequel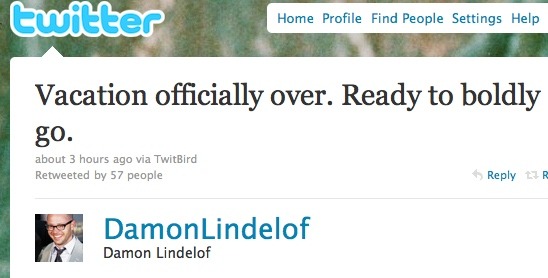 The above tweet was filed by Damon Lindelof on Tuesday. Returning from his well deserved post-Lost vacation, Lindelof is ready to get to work full time on scripting the Star Trek sequel with Alex Kurtzman and Roberto Orci. We are now exactly two years away from the announced release date of June 29th, 2012.
The screenwriting team told TrekMovie last week at the Saturn Awards that they have a story and that "the next phase is to get together and try to destroy it." Looks like that can now happen. Orci/Kurtzman claim to have a "front runner" for the sequel's villain, and while the bad guy will likely be a bigger part of the sequel, the second movie is really "about how does the team now that they are on their journey, live together as a family, so that is still a big engine of the narrative." They also have no idea what the title or the movie will be, and seem to have dismissed the idea of "Star Trek 2" or "Star Trek XII", suggesting that ut will likely have "Star Trek:" followed by a sub title.