'Cloudy With A Chance Of Meatballs' Directors To Make WB's Lego Movie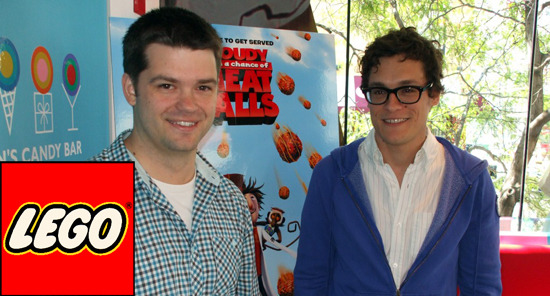 Do I now need to be attentive to developments in Warner Bros.' Lego movie? We knew the studio was attempting to put together a film based, somehow, on the colorful building blocks that have been a part of so many childhoods. Now the studio has not one, but two directors on the project: Phil Lord and Chris Miller, who made the wonderful animated film Cloudy With a Chance of Meatballs.
THR doesn't have many details on the film, but says that "it will be an adventure in the Lego world mixing live action and animation." That's the idea of Lord and Miller, who pitched an idea blending live action and animation as WB and Lego reportedly weren't certain which approach was best for the film. Whatever blend they end up with, expect it to be in 3D.
Given the success of Cloudy, which took a very short kids' book and expanded the tale into feature material, it isn't difficult to see how the pair got this job. They did a truly excellent job with Cloudy, creating a film with great characters and a rollicking sense of humor that delivers far more than you'd expect out of the book's thin premise about a town where food rains from the sky. (The film is streaming on Netflix now and if you haven't seen it, no matter how disinterested you may be based on the premise, I'd highly recommend watching.) On the surface, there's nothing that sounds appealing about a Lego movie, but if these two guys are behind it I'll have to take a look.
Lord and Miller are currently set to make the 21 Jump Street TV to film adaptation, and Lego will reportedly go after that film is done.