VOTD: AT-AT Day Afternoon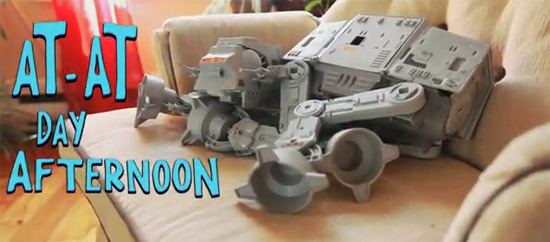 A month ago we posted Iron Baby, a cute little video clip that did more or less exactly what the title promised by casting a baby as Iron Man. OK, not really my thing, but some people got a kick out of it.
But I've got a much greater weakness for dogs, and especially machines that are animated to behave like dogs. With that in mind, I present AT-AT Day Afternoon, which is a pretty cute little Star Wars-related joke that runs exactly as long as it should.
We've featured a bunch of Patrick Boivin's videos in past editions of Video of the Day, including a Batman vs. Hellboy movie trailer mash-up, Iron Man vs. Bruce Lee, Bumblebee's stop-motion animated dance and Boba Fett's stop-motion Mandalorian Dance. The French Canadian director certainly is prolific, and manages to capture and bottle just the sort of stuff that the internet loves. You'd think that might be kinda like shooting fish in a barrel, but not everyone can do it just right. With AT-AT Day Afternoon, I think Boivin has outdone all of his other shorts.
And if nothing else, this is the best comment on Jabba the Hut I've seen in a while. I might have used an Ewok, but there's no question that Jabba's appearance here works perfectly.
[via iO9]