Sylvester Stallone Reportedly Wants To Play 'Dapper Don' John Gotti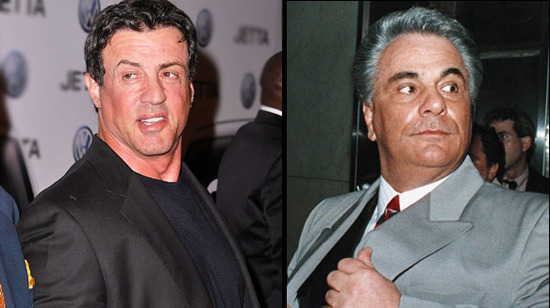 Every once in a while we hear about Sylvester Stallone working on a pretty serious project that goes beyond a Rambo sequel (the last one was plenty serious!) or an idea like The Expendables. With the lingering Oscar shadow of Rocky and the pleasure of Copland I get interested.
Last time Serious Sly started talking it was about Rampart Scandal, a film about the LAPD division of the same name and the killings of Biggie Smalls and Tupac Shakur. That never happened (and a film about the LAPD's Rampart division is now being made by Oren Moverman) but Sly has another serious movie in mind: he's reportedly working on a biopic about the famous New York don John Gotti.
TMZ (yeah, yeah) says that Stallone is in "serious talks" with "Junior" John Gotti to make a film about his father. The site doesn't say whether Stallone has a mind to direct the picture, but does say that their sources claim Stallone would play the elder Gotti. Supposedly the project is at the 'choose a screenwriter' phase, so it isn't happening soon.
All hesitation about TMZ notwithstanding, I'd be quite interested to see this. Stallone has never had an easy time treading the line between serious dramatic material and the action films that became his bread and butter. And I like his action films, but I know he's got some dramatic skills — or had them — and I'd be willing to watch him exercise them once more.
Gotti, called the Teflon Don because he once seemed impossible to convict, was accused of thirteen murders, conspiracy to commit murder (including that of his predecessor, Paul Castellano) and other charges: racketeering, obstruction of justice, illegal gambling, extortion, tax evasion and more. He was the head of the Gambino cime family and one of the most famous organized crime figures of the last fifty years.