See One Minute Of Footage From The Green Hornet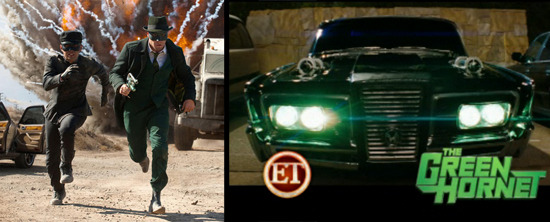 We just had a couple of official snapshots earlier today and the trailer debuts in a few hours, but right now there is one minute of footage from Michel Gondry's The Green Hornet available for streaming. We'll have the full trailer when it goes online, but in the meantime you can get a pretty good idea of the film by looking at this clip.
ET is streaming the footage, which looks just about exactly as I'd imagined — a sorta jokey take on the big-budget superhero movie, with a few touches that call back to Michel Gondry's Be Kind Rewind. It's not so much the look that recalls Gondry's last movie — this footage is super-glossy — but the spirit of it, with Seth Rogen's character seeming to take on his father's  mantle as a lark but possibly growing into it. (Where does that car and arsenal come from? Curious to find out.) Yeah, I know, that's one classic superhero origin story in a nutshell, so maybe I'm just looking for Gondry too much in this footage. Hopefully the full trailer will make things look more certain.
For all the grumbling about Rogen in the role (which this clip directly addresses) I like him. He fits the character, and I'd expect that all the "whoa, what's that?!?" stuff is first act. I can see him settling into the role just fine. Jay Chou looks respectable, the couple shots we're given of Christoph Waltz look properly feral and villainous, and I dare say the effects look pretty good. This is a teeny-tiny streaming window, so it's hard to tell for sure. Again, we'll let the full trailer be a better indicator there.
We don't see a lot of Cameron Diaz in this clip — wonder if she has a better presence in the trailer, or if the very poor tracking for Knight and Day suggested to Sony/Columbia that they reduce her presence? We'll know later.
(Thanks to BenDavid for the head's-up on this.)