Weekend Weirdness: The Mighty Boosh Make A Rare Appearance In NYC For Their Doc Journey Of The Childmen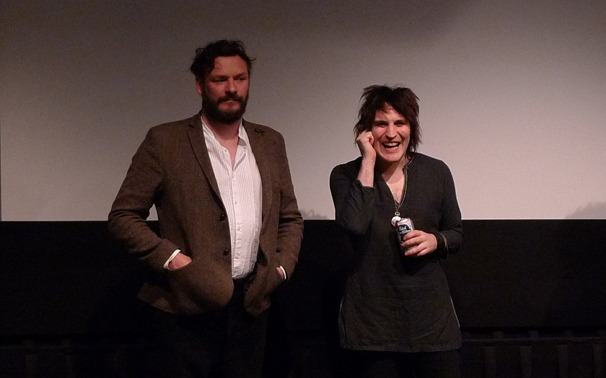 It's a crazy, mixed up world and we are thankful for movies that offer proof. Slashfilm's Weekend Weirdness examines such flicks, whether in the form of a premiere for a provocative indie, a mini review, or...the Boosh!
"We were going to do [a tour of America]," Noel Fielding admitted to an enthused, sold-out crowd last weekend at the 92Y Tribeca in NYC. "But then my hat caught fire." Fielding's voice during the last bit softened into the feigned shyness typified by the London hipsters and rockstars The Mighty Boosh has expertly razzed through the aughts onward.
There was a waft of irony to their appearance in the city, since fans had come to the venue, not to see The Boosh perform, but to watch a new doc entitled Journey of the Childmen about their 2008/2009 tour in the UK. Tickets for two exclusive screenings actually sold out before it was announced online that The Boosh would be attending. Their presence resulted in a unique pop culture snapshot; here was a dedicated fanbase and two of the most original British comedians working today, all parties aware of the gap in mainstream crossover awareness outside the screening room. And in minutes, the former would be watching the latter perform to a 12,000 person arena many miles away.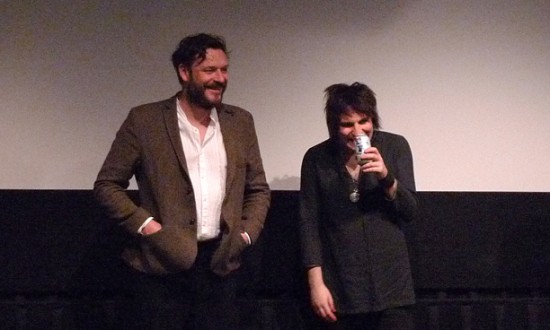 Six years ago, Fielding and comedy partner Julian Barratt saw their hallucinatory, brilliant comedy series The Mighty Boosh debut to buzz and acclaim on the BBC 3. The Brits have since become comedy icons back in the UK, and colorful fixtures of the rock-excess rag New Musical Express. In March, Fielding was even photographed holding hands—in public!—with his proclaimed platonic pal Courtney Love. Gossipers were quick to debate his new blond dye job online. Was it distasteful to Kurt Cobain's memory, or an unfortunate tribute to bloated, '80s-era Ozzy? "I look like all The Police, I can't even choose one," Fielding would quip later.
But even with the Internets and Hollywood's Brit-sponging TV execs, America wasn't properly introduced to The Boosh until 2009. Thanks to Region 1 DVDs and regular airings on [adult swim], tastemakers, and many a nocturnal robe-wearing weed dealer, came to embrace the show and its irreverently bizarre characters. Last Halloween, if you were perplexed by kids in Brooklyn, Los Angeles, or Durham costumed as mangy foxes with syringe fingers, that would be The Boosh's memorable nemesis The Crack Fox.
July of last year, The Boosh performed their first stage show in America, a MySpace-sponsored free event at NYC's Bowery Ballroom. (Video embedded below.) Costumed fans came out in droves, and for a second, 2009 seemed like a major breakout year for the duo in the states. However, by the time they played Bowery, The Boosh had already completed an aforementioned 110-date Future Sailors Tour overseas (titled after a cheeky Gary Numan-like electro jingle they performed in season three). Click the link for a clip.
Before the second sold-out screening of Journey to the Childmen last Saturday evening, Fielding said the real reason why The Boosh hadn't toured the U.S. was due to the feature film adaptation he and Barratt are currently writing. In fact, in a coop for the 92Y, they weren't in NYC over the weekend for the screenings, but to record a new Boosh comedy album at Electric Lady Studios. "Obviously," Fielding remarked, the chance to record at Jimi Hendrix's studio was too good to resist. Rock purists, they also copped to staying at the famed and storied Chelsea Hotel.
Both chaps looked like they had been...partaking in some long studio sessions, bleary eyed but game to fuck around. When a nervous male fan flubbed a question with, "How's the album coming...out?" Barratt took a beat, smirked, then pounced. "How's it coming out?" he asked rhetorically. "We're releasing it as a virus." Standing beside him nursing a PBR, Noel nearly overlapped him with, "It's going to be an awesome car and we're going to go riding around the citttay!"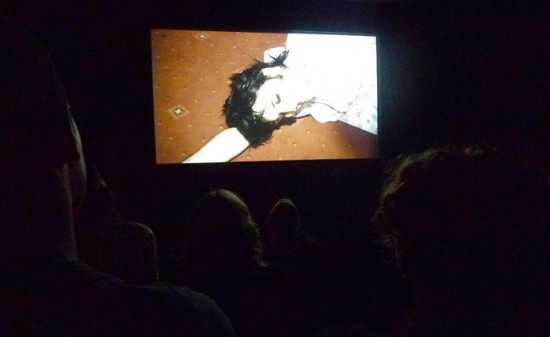 Director Oliver Ralfe, their pal, collaborator, and a rock musician, was also on hand but didn't have much to offer about the film. Mostly due to questions of the "Just wanted to say I love you," variety. Lights dimming, Fielding and company exited with a warning that Childmen contained a fair share of pornography. They fibbed. Unless you get off watching The Boosh doze off in tour vans, on venue carpets, and in other not-so-convenient places for a pair of comedic nomads traveling underneath gray skies. Knowing how hard these guys party, the doc almost instilled a behind-the-scenes wonder at their endurance. Actor and comedian, Rich Fulcher, a presence and muse in their series, comes away with the best and most tireless scenes during his gig as the naughty, bombastic tour announcer. The doc will earn your respect for all performers involved, including dance choreographer Dave Brown who plays Bollo the talking ape, more so than guffaws.
Keep a look out for the doc at the official site. The trailer is posted below. I give a heartier recommendation for non-diehards to the Future Sailors Tour DVD that's in stores now.
Trailer: Journey of the Childmen
Clip: The Mighty Boosh at The Bowery Ballroom, July 2009
Clip: From the episode, "The Nightmare of Milky Joe," which Barratt said was a personal favorite at the screenings
Photographs courtesy of Elizabeth Spiridakis.92Y Film Programmer, Cristina Cacioppo, who arranged the screenings and appearance, can be followed on Twitter.Hunter Stephenson can be reached on Twitter.