Casting Notes: Danny McBride In Bullies, Sam Worthington Offered This Means War; Nicole Kidman And Nicolas Cage In Trespass; Clive Owen And Nicole Kidman In Hemingway & Gellhorn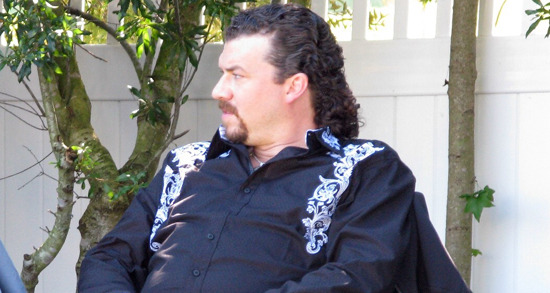 I love seeing Danny McBride break out as a legit talent — The Foot Fist Way, Tropic Thunder and Pineapple Express got him in front of audiences, but the HBO show Eastbound and Down really made his name. Now, as the second season of that show prepares to air, there's word that McBride will get to star in Bullies, based on his own story idea.
The film follows "two brothers who finally get a comeuppance after bullying people their whole lives." Curious to hear who'll co-star with McBride (the plot sounds like it could so easily be a Will Ferrell / John C. Reilly affair) but we do know that Andrew Mogel and Jarrad Paul will write, and McBride will produce with David Gordon Green, Jody Hill and Matt Reilly. [Deadline]
After the break, loads more casting info, including new work (maybe) for Sam Worthington, Nicole Kidman, Nicolas Cage and Clive Owen.
McG is prepping This Means War, with Chris Pine as one half of a best-friend pair who also happen to be (a) spies and (b) in love with the same woman, played by Reese Witherspoon. The two friends get into city-wide warfare with each other when their romantic intentions clash. Now Sam Worthington has been offered the other lead male role. (There was a minute where Seth Rogen was said to be one of the options for the role.) But the film has been around for over ten years; it was originally written as a Martin Lawrence vehicle. It's been rewritten numerous times and had a parade of stars and directors attached. Supposedly the movie is a priority at Fox, but I'll believe it when cameras actually roll. [Vulture]
Undeterred by the critical savaging of his Sundance entry Twelve or the distributor indifference to his dumped film Blood Creek, Joel Schumacher is getting right back into the game with a new action-adventure film Trespass. He's lined up Nicolas Cage and Nicole Kidman to star as "a husband and wife taken hostage by four brutal perpetrators seeking easy cash. Complications ensue amid the unexpected discovery of betrayal and deception." [Variety]
Nicole Kidman is also now booked to co-star opposite Clive Owen in Hemingway & Gellhorn, an HBO movie based on the relationship between Ernest Hemingway and Martha Gellhorn, a war correspondant. The two met in Key West, FL, and covered the Spanish Civil War together during their five-year marriage. Gellhorn was part of the catalyst for the creation of Hemingway's novel For Whom the Bell Tolls.
Philip Kaufman will direct from Barbara Turner and Jerry Stahl's script; James Gandolfini (who once planned to play the lead) is producing. [Deadline]