Russell Crowe Attached To Play The Equalizer, Based On The '80s TV Show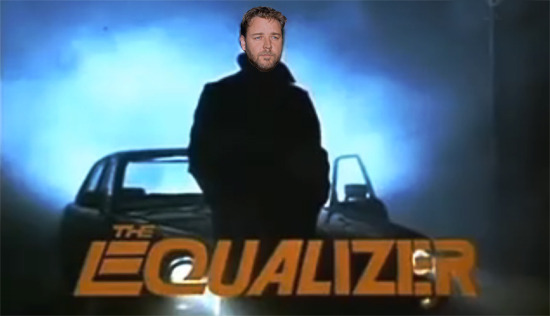 Depending on how closely you've paid attention to TV to film developments in the past few years your reaction to that headline is either going to be "um...what?" or "so, it finally happened."
Regardless, I guess that whole thrust towards developing original ideas hasn't kicked in yet (obviously) because out of nowhere comes word that Russell Crowe is attached to play the Edward Woodward role in a big-screen revival of the '80s TV show The Equalizer. This was a rumor a few years ago when Mace Neufeld and the Weinstein Brothers started developing an Equalizer film, and now may become fact.
The Equalizer was essentially The A-Team with a little more class, and the fact that this announcement is coming on the heels of The A-Team's relatively poor performance in its opening weekend should perhaps not be overlooked. Not the best timing, really, but this project remains in the early stages.
In the show, the late Woodward played Robert McCall, formerly a secret agent with an unnamed agency. He tries to atone for his violent, dangerous past by putting his skills to use helping those who needed protection and/or investigative services. His services were offered gratis through a newspaper ad: "Got a problem? Odds against you? Call the Equalizer."
The LA Times says Crowe is attached to play McCall, but that there is no script at this point. The Weinsteins are no longer involved; Mace Neufeld remains a producer, and is working with Escape Artists, the company behind the remake of The Taking of Pelham 1 2 3. There's no studio working with the project right now; Crowe's attachment is no doubt meant to lure someone in.
Here's the opening to the show, with the theme song, composed by Police drummer Stewart Copeland, that was so different and memorable at the time.