3D Movies Are Coming To Nintendo's New 3DS Handheld Game System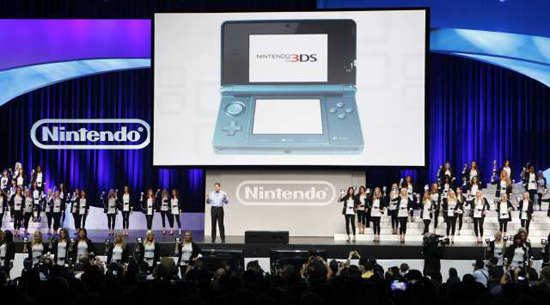 The big puzzle at the nexus point of cutting edge technology and consumer products is currently: how to bring 3D content to homes? Nintendo, which in the past decade has been steadfastly disinterested in putting technology first when releasing game devices, is suddenly leaping forward with a solution.
At the company's Electronic Entertainment Expo (E3) press conference this morning, Nintendo formally introduced the 3DS, an update of the blockbuster DS gaming handheld. (The device was first announced in March.) The trick of the 3DS is that it provides a 3D display with no glasses. And Nintendo has made a deal with movie studios to bring film content to the device.
The LA Times reports that Nintendo has made deals with Warner Bros,. Disney and DreamWorks "to deliver stereoscopic 3-D movies to Nintendo's upcoming 3DS hand-held console." No titles have been announced at this point, though the teaser trailer for Disney's upcoming film Tangled was shown on the 3DS during the presentation this morning.
Like prior iterations of the DS, the 3DS has two screens. The top one is a 3.5-inch widescreen 3D display; the bottom is a touch display of the same size. A slider on one side allows users to adjust the depth of the 3D display, and a pair of cameras that allow users to take 3D pictures. The 3DS is promised by the end of Nintendo's current fiscal year, which ends in March 2011. Wired has a good hands-on writeup of the device, but keep in mind that author Chris Kohler is quite the avowed Nintendo fanboy.
(Sony has also been aggressively developing home 3D technology and today showed off the PlayStation3 game Kill Zone 3, which will be playable in 3D.)
Image: the Associated Press, via the Los Angeles Times