Movie Trailer: Bagman, Featuring Kevin Spacey As Lobbyist Jack Abramoff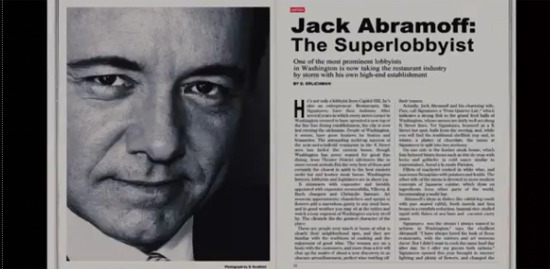 There are two films about disgraced 'super-lobbyist' Jack Abramoff. The documentary Casino Jack & The United States of Money is in theaters now. The other, a feature once called Casino Jack and now titled Bagman, is directed by George Hickenlooper and stars Kevin Spacey as Abramoff. A promising combination, to be sure, but if this new trailer for the film is anything to go on, this is a promise unfulfilled.
Spacey musters some of the smarmy ego that he can do so well, but even in this limited presentation he looks inconsistent. Same goes for Barry Pepper, and what the hell is Jon Lovitz doing here? Also in the cast are Kelly Preston and Rachelle Lefevre.
From the first moment, this trailer misses the mark on just about every possible level. The tone has notes from Charlie Wilson's War, The Informant! and The Insider, but in a general sense, the combination of almost-satirical comedy and deadly serious political commentary falls totally flat. Is the movie this tone-deaf? I very much hope not, because this is a story that should be told through as many means as necessary. I don't think there's any doubt that the doc Casino Jack is the superior version, but I'd love this to be a reasonable telling as well, just so more people were likely to experience what Abramoff did.
And let me echo the request that others have already made with respect to this trailer: please, let the Rolling Stones songs 'Gimme Shelter' and 'Sympathy For the Devil' have a break. Impeccable tunes, yes, but as soon as I hear either one in a new trailer or film I turn right off. I think Jeremy Smith said it best in a pair of columns (here and here) a few years ago at CHUD.
Bagman will hit limited release on October 1.
[via The Playlist]