Spider-Man Shortlist Gets Longer: Aaron Johnson And Anton Yelchin Considered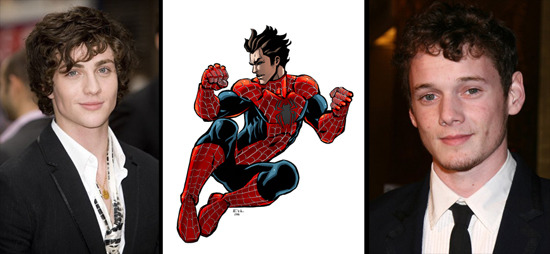 A couple weeks ago we reported that Sony and Marc Webb were looking at five actors to play Peter Parker in the new version of Spider-Man: Jamie Bell; Andrew Garfield; Alden Ehrenreich; Frank Dillane; and Josh Hutcherson.
Last week we heard that Jamie Bell was the front-runner, albeit without any official confirmation. Now there are two more names to add to the list: Kick-Ass star Aaron Johnson and Anton Yelchin, from Terminator: Salvation and the upcoming Fright Night remake. (What, no Don Glover? Damn.)
The LA Times reports the names, but doesn't present any specific intel on either actor, or on the previous list, for that matter. But both of these actors are people many expected to see on a Spider-Man shortlist — they're among the more notable up and coming guys who can both act and do the physical stuff necessary to make a film like Spider-Man work.
After Johnson's turn in Kick-Ass, many naturally speculated about his suitability for Spider-Man. The lead characters of the two films have certain similarities, and Johnson's performance was strong.
As Movieline notes, Johnson once appeared to lack any real interest in Spider-Man. (In stark contrast to the typical actor's stance of never saying no in public.) But things could have changed, depending upon what sort of offers he's been made in the wake of the performance of Kick-Ass.
And Yelchin is a strong choice in some ways. I've expressed an admiration for his work more than once; while he didn't have much chance to shine in Star Trek, I thought he killed in Terminator: Salvation as the young Kyle Reese. My first impulse is that I'm not certain he's right for Peter Parker, but thinking about it more, he really does have a look and vibe that cuts back to some of the early depictions of the character. I'd love to see Webb go that direction, though I don't really expect him to.