Full Details On Kevin Tancharoen's Mortal Kombat: Rebirth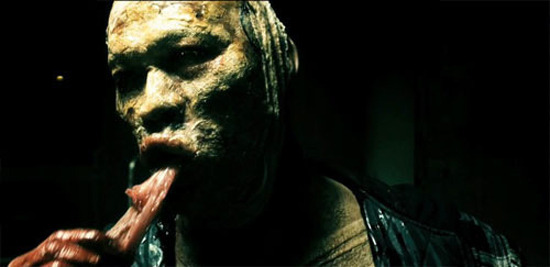 Earlier this week, seven minutes of Mortal Kombat footage featuring Michael Jai White as Jax seemingly "leaked" online. Is this test footage for a new Mortal Kombat movie reboot? Who is behind this short film? We have the full details, after the jump.
The Mortal Kombat footage was shot by Fame director Kevin Tancharoen. Our friends at Collider had an opportunity to talk to Tancharoen and discover more, you can read that interview here. But here is the gist:
The short film was shot in early April completely on spec. It was shot over two days on two RED cameras for or $7,500 with most of the crew donating their time. Post production took two months, and no one at the studio knew anything about the spec short film, even though screenwriter Oren Uziel (who is attached to the next Mortal Kombat movie according to imdb) wrote the script. Tancharoen made the film as a pitch for the job. The fight choreography was done by Larnell Stovall, who worked on the fight sequenced in Undisputed III, and did stunts for The Other Guys and Green Lantern.  Here is a short excerpt of Tancharoen's comments:
It's one of those passion projects that lived in my head. The technology is so accessible now. There's was no reason why I shouldn't do it, so I did it. I'm very, very happy that people are responding well to it. ...My heart has always been deeply immersed in fanboy culture. As a kid, all I wanted to do was be a Ninja Turtle who morphed to a Power Ranger. As long as I was in the suit, I was going to be happy, because I just wanted to be in the suit. I think, of course, for the people that know me, this is not really a shock. Because they know that this is my love. And I do understand that it's crazy to see such a shift in genre. But this is what I want to do, and this is what I've always wanted to do, and am very passionate about. And I knew that because I've always been in the performance world, if I ever wanted to make a genre picture, I had to do it myself first. So that was another reason why I felt like I should do this. And I went for it. ... this is my take on what I would want to do with Mortal Kombat. I would love it if Warner Bros. wanted to do it this way. ... the short so far is really designed like a prologue to the movie. Now, in a movie version, I am going to have that mysticism there, but it has to be done in a very tasteful way. I wouldn't like it too campy or too cheesy. I know this is a weird analogy, but it's the best one I can think of right now. It's kind of like when in Harry Potter, there's two universes that coexist with each other. There's the real world, and then you get on the train and then you go to Hogwart's, and that's where all the magic is. It was actually kind of similar in the first Mortal Kombat, too. They had to get on the ship and go to the island, and that's where all the crazy stuff happened.
So there you have it. Also, LatinoReview compiled a good list of actors who were features in the short: Sonya Blade is Jeri Ryan (Star Trek: Voyager), Baraka was Lateef Crowder (Undisputed III), Scorpion was Ian Anthony Dale (Tekken),  Johnny Cage was martial artist Matt Mullins.