John August To Write Monsterpocalypse For Tim Burton?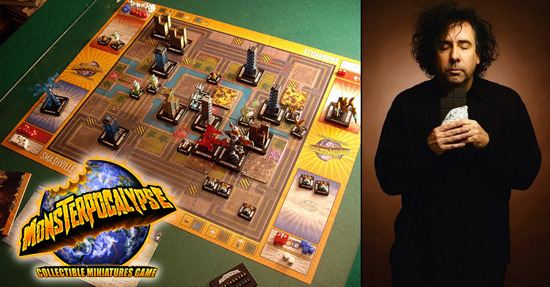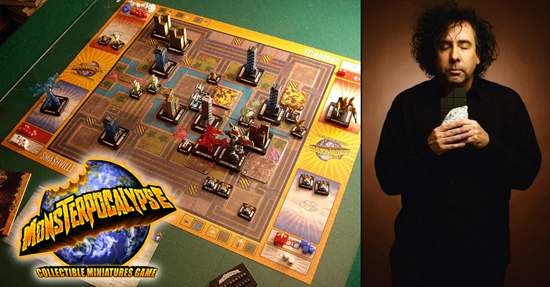 Last month, it was reported that Tim Burton had become attached as a creative consultant, producer and possibly director of the Disney/Dreamworks film based on Monsterpocalypse, a board game Russ described as "part strategy, part Kaiju Big Battel, and part Rampage!, all played out with miniatures on a tabletop."
Now HeatVision reports that John August is in negotiations to pen the feature adaptation, which might further confirm Burton's possible involvement as director. Those of you following August's career know that he is Burton's constant collaborator. Talks are said to be "ongoing".
This is the type of film I would have loved to see Burton do fifteen years ago, but now it seems like it would be a artist trying to recapture the magic of his previous work.  Personally, I'd rather see any of the following filmmakers take on this property: Incredibles/Ratatouille director Brad Bird, Gremlins/Small Soldiers director Joe Dante, or maybe even the live-action directorial debut of Up/Monsters Inc direcrtor Pete Docter. Hey, at least Shawn Levy and Stephen Sommers's names are no where near this one.
August broke onto the scene with a spec script titled Go, which was directed for the screen by Doug Liman (a film I highly recommend). Since then August has written a bunch of adaptations and remakes, mostly in association with director Tim Burton (Big Fish, Charlie and the Chocolate Factory, Corpse Bride). He made a fantastic directorial debut with an original independent sci-fi mystery drama The Nines, and he's producing Prince of Persia, wrote Preacher, and is also attached to Burton's Frankenweenie and Dark Shadows. Personally, I'd love to see him write more original scripts and less adaptations, and maybe give the directors chair another couple tries.
Previously:Matt Wilson, who created the game, is on board as co-producer. The original Monsterpocalypse game calls back to some of the classic Games Workshop tabletop miniatures games like Space Hulk in the way that minuatures and a contained map are used in gameplay. More specifically, from the game's website:
Monsterpocalypse, [is] a fast-moving, action-packed strategy game...portraying the most fearsome giant monsters on Earth! Each battle takes place in a city that you and your opponent construct by placing buildings on a city map. Players choose their forces from their respective collections of figures and then battle one another with giant monsters and supporting units such as tanks, flying vehicles, and all manner of creatures. Charge your monster into the city to fight for supremacy, and be the last monster standing!
It is still unknown how they plan to approach this film.